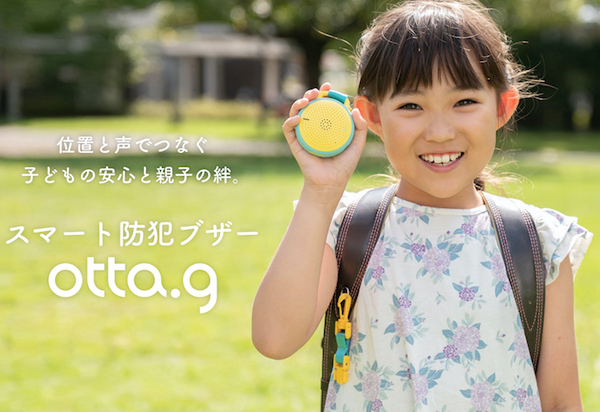 Otta announced on November 10 that it will be releasing "otta.g," a new product for the service "otta" which allows everyone in the community to collectively safeguard the well-being of children and the elderly. This product will be released in December.
Otta is a company responsible for developing and operating the first community-based surveillance service in Japan based on the concept of "safeguarding the well-being of others collectively." otta.g is a security alarm equipped with a two-way voice messaging feature in addition to a location recording/notification feature that utilizes GPS and a proprietary location information network.
In addition to offering children a sense of security through the sending of location information and voice messages, the product also provides the minimally necessary communication features as well as location recording/notification features for families who feel that their children are still too young to own mobile phones. When the security alarm is activated, the user's position and the voices in the surrounding environment are automatically transmitted.
The product uses LTE communication and determines one's position using GPS, LTE base stations, and Bluetooth LE. It is approximately 64 mm wide and 34 mm thick. The product is powered by a built-in rechargeable lithium-ion battery. otta.g will retail at a price of 9,800 yen (around $93, with an additional contracting fee). The standard plan costs 680 yen (around $6.50) per month, and voice messages are charged at a rate of 300 yen (around $2.80) for 200 messages.