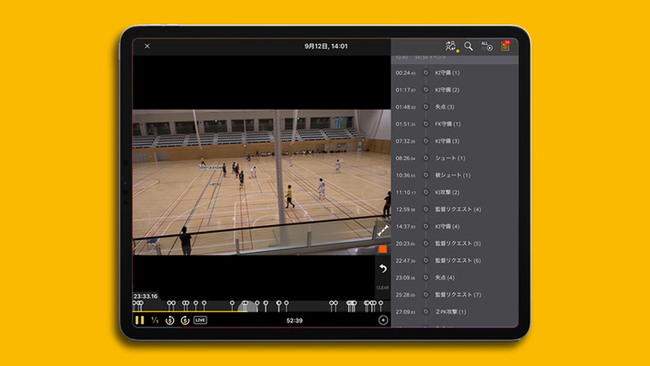 On November 9, Dartfish Japan released new functions for the top grade edition of its "myDartfish Pro S" software, which analyzes sports videos. Users will now be able to share and watch remotely recorded videos on their smart phones, tablets, and computers.
Developed by Dartfish in Switzerland, the Dartfish software is sports analysis software with a wealth of analysis functions. With functions to analyze videos and broadcast or share the analyses, users can now tag players and add comments during a game. They can also give real-time coaching at half time using video of players during play to provide guidance.
A new "live collaboration" function has also been added for remote simultaneous tagging. It is now possible to share video from cameras at bird's eye view locations far from the players, such as the spectator stands or analyst chair. Users can also now share the tag information of all viewers (stats summaries) while recording live video, and use time-shift replay to review important scenes on their own devices at leisure.
These features are intended to support prompt feedback and communication with players for strategic decision-making by allowing coaches and directors to share the information they pick up from their various perspectives in video form. This can now include not only pre-game information, but also things such as opposing team tendencies that only become clear during the game.