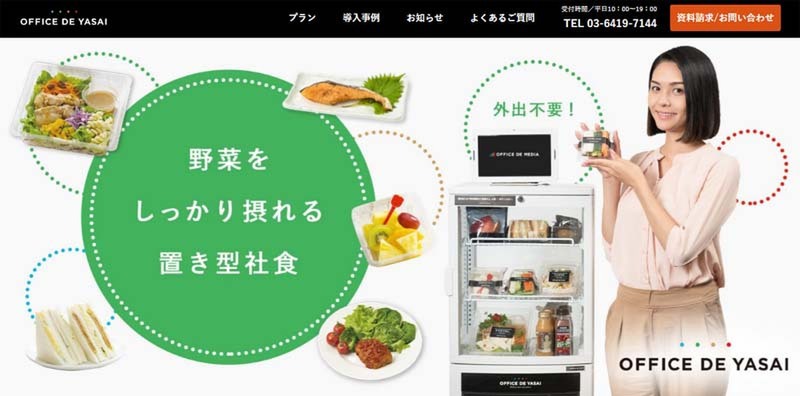 On October 27, Kompeito announced that it has raised over 400 million yen (about 3.83 million dollars) of added investment from Iwagin Jigyo Souzou Capital.
Kompeito develops OFFICE DE YASAI, a standalone office canteen that offers healthy vegetable options. So far, by partnering with stores offering milk, newspapers, and other items, the company has built its own distribution networks. The company's main area of operation is in Tokyo, but it has also set up networks in Yokohama, Nagoya, Osaka, Kobe, and Fukuoka. Partner companies in delivery areas receive direct shipments from either Kompeito staff or their business partners. As Kompeito manages expiration dates, payments, and other logistics, customers can use the service without the hassle.
Until now, the company has used Yamato Transport's Cool TA-Q-BIN for shipments to areas outside of its delivery networks. However, with the added funding and the growing need for ready-to-eat office meals due to the influence of the coronavirus pandemic, the company is expanding its delivery networks nationwide over an area ranging from Hokkaido's Sapporo City to Okinawa's Naha City.
Deliveries to the prefectures of Hokkaido, Shizuoka, Okayama, and Okinawa will begin in October, with deliveries to Iwate and Kyoto to follow from November. The company is working towards partnerships with companies in Hokkaido, Okinawa, and other local regions that will encourage local production for local consumption and other benefits. In particular, Iwagin Jigyo Souzou Capital, the provider of the added investment on this occasion, expects the expansion to bring agricultural and economic revitalization to its local Iwate Prefecture. The company plans to continue to expand its areas of operation in the future.