On October 9, Groovenauts announced that its cloud platform, "MAGELLAN BLOCKS," has been adopted by Kewpie.
Groovenauts has developed unique models and applications for solving various work-related combinatorial optimization problems using the Ising machine, a quantum computing technology, and provides them as MAGELLAN BLOCKS. By using MAGELLAN BLOCKS, real-world combinatorial optimization problems that trouble businesses can be solved, such as shift optimization, manufacturing sequence optimization, and logistics optimization.
Kewpie has been expanding its business in response to the prepared food market, which has been continuously growing for the past 10 years. Kewpie has needed the most manpower in the process of preparing food, with many employees working 24-hour shifts, and the company needed to introduce a sophisticated management system to redesign its business operations and streamline its shift structure.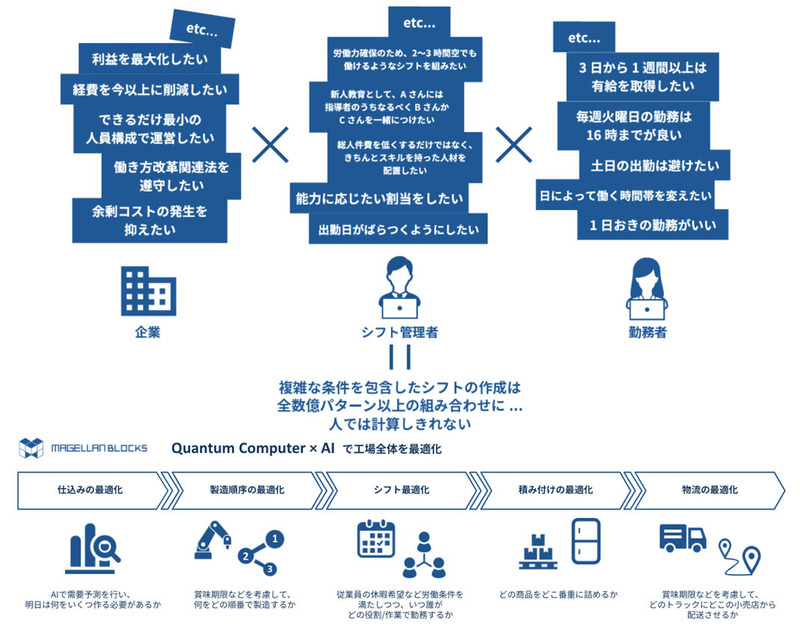 Kewpie has welcomed Groovenauts as its technology partner in achieving an optimal production system, and the two companies have begun a project to optimize shifts in manufacturing lines at prepared food factories. In the demonstration test, the effectiveness of the Ising machine was confirmed when the shifts were created using the MAGELLAN BLOCKS Ising model, which in just 1 seconds produced shifts that were in their suitability for practical use comparable to a chart a skilled shift creator would need 30 minutes to make.