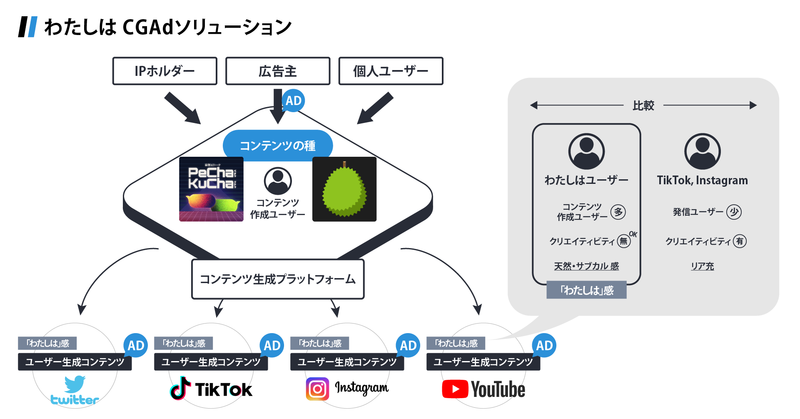 The developer of Ogiri AI "Watashiwa" announced on October 2 that it has raised 84 million yen (around $790,000) from Deepcore, DG Daiwa Ventures, and individual investors. It has launched new AI services following Ogiri AI, as well as a new CGAd (consumer-generated ad) business based on these services.
Since its establishment in April 2016, the company has developed "Ogiri AI" as its core product by utilizing "AI technology for handling humorous dialogues." In August, it released two new AI services, i.e., "PechaKucha," an improved version of Ogiri AI that generates dialogues between AI characters, and "Dorian," which automatically creates meme video content using AI from user images and videos.
In addition, information from Ogiri AI is shared with many users on Twitter, and it is said that these tweets create over 90 million impressions per month. Against this backdrop, the company has launched a CGAd (consumer-generated ad) business which includes advertisements and brand information as an advertising promotion service for business corporations such as consumer goods manufacturers, customer-oriented services, and entertainment companies, in view of the user-led expansion of "content jointly created by users and AI" on social media.
The company representative Daisuke Takenouchi has remarked, "We hope to expedite the growth of our company as a unique AI company that can continue to offer our customers quality AI products that will convince them that these products must be the most exciting AI products available because they are created by Watashiwa."