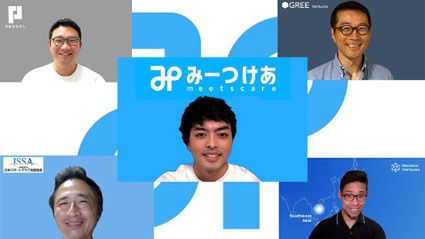 On October 6, Meetscare announced they had raised a total of ¥240 million (about $2.26 million) in funding. The investors in this round were Genesia Ventures, GREE Ventures, Japan Startup Support Association, Persol Innovation Fund, and several angel investors. Already existing shareholders are East Ventures, Genesia Ventures, YJ Capital, Mercari Fund, Mr. Ayataro Nakagawa, and Mr. Yusuke Sato.
The company's goals is to "simplify all nursing care" and to promote IT and DX (digital transformation) in the nursing care industry. Founded in 2016 as BayCare, the company changed its name to "Meetscare" in 2019, derived from the words "meets" + "care" and reflecting the concept of "connecting all people involved in nursing care." With the mission of realizing "Best Care and Smile," the company's main business is to provide care counseling and referrals to agencies and care facilities for people in need of care and their families. Meetscare's business website lists a database of agencies across Japan, with graphs and reviews to help customers choose the best facility in their region.
The company operates a care consultation and introduction to agencies and facilities service that provides consultation via LINE, email, and phone, the "Meetscare Workers" matching service (launched in 2020) for care helpers looking for work and nursing care facilities who are recruiting, and the Meetscare portal and content site that collect information on agencies and facilities.
Meetscare announced it would use this funding to support its business expansion and marketing efforts.