From October 12, the medical corporation Shinkokai and Halmek Ventures will offer a joint service.
Halmek Ventures has previously offered a "home dock" service that allowed people to receive blood and urine testing services at home with the same accuracy as medical care.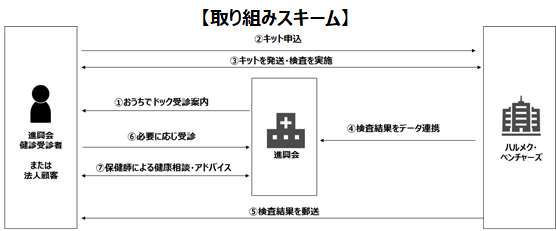 From now on, this testing data will be managed in conjunction with Shinkokai. Health advice will be provided by Shinkokai public health nurses, and a system will be established to enable people who need a second examination or have symptoms that are worrying to them to visit Shinkokai's medical facilities easily.
Shinkokai is also introducing a "home dock for Med" program for people who have had a physical exam and complete medical checkup. The company suggests that this service can be used as a check-up tool for those who have had a medical examination. In addition, the company will develop a new corporate health management service using Halmek Ventures' testing kits for people who have difficulty in receiving conventional health checkups, such as telecommuters and dependents who are enrolled in health insurance.