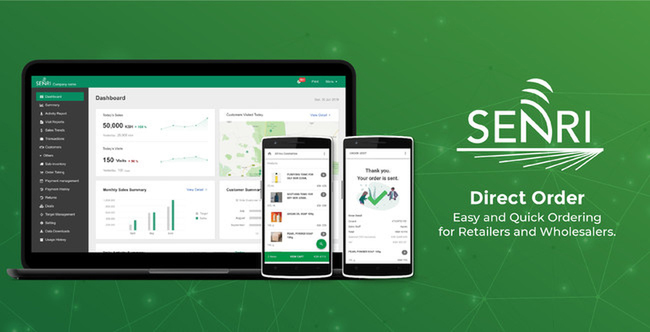 On October 1 Senri officially released their mobile ordering platform "SENRI Direct Order," which is built specifically for retailers based in developing countries. And simultaneous with this release, the company's original name, "Africa Incubator Ltd.," was changed to "Senri Ltd."
The company built "SENRI" to operate as an order management platform geared toward businesses in Africa and Asia. With both an app and web application, Senri is throwing their support behind the digitization of distribution in the developing world. As of this October at least 150 companies have adopted the platform and utilized it in a total of five countries: Kenya, Nigeria, Uganda, Tanzania, and Indonesia. The gross transaction value per month has reached about 1.2 billion yen (approx. 11.41 million USD), and the number of monthly active users grew 2.7 times faster than it did the year before.
As a newly developed product, the mobile platform SENRI Direct Order is integrated with WhatsApp to enable local retailers to order merchandise from consumer goods manufacturers and more. Its features include delivery status notifications using chatbots with WhatsApp, promotions and guidance to ordering sites through WhatsApp, and access to manufacturer-specific ordering sites for retailers to place orders and receive promotional information.
The company plans to expand their operations to 5 more countries throughout Africa and Asia, including Egypt, Vietnam, and the Philippines. They expect to make Senri and SENRI Direct Order available in 10 different countries by the end of 2023.