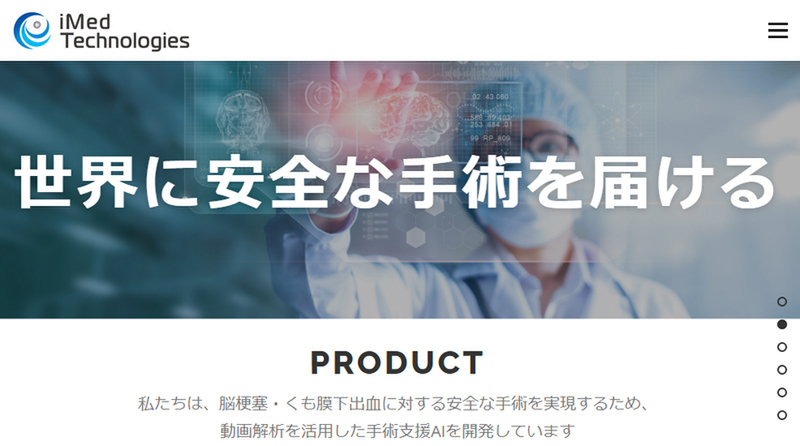 iMed Technologies announced on October 1 that it has raised 170 million yen (around $1.62 million) in funds through the third-party allotment of shares. Underwriters include funds managed by SBI Investment, the Graduate School of Management of Globis University (G-GROWTH fund), and Mitsui Sumitomo Insurance Venture Capital.
With the support of the University of Tokyo IPC 1st Round and NVIDIA Inception Program, iMed Technologies has been involved in the development of AI offering surgical assistance in order to improve the safety of cerebrovascular surgery since the company's establishment in April 2019. Cerebrovascular surgery is one of the surgical methods for treating stroke and subarachnoid hemorrhage, with the number of surgeries performed rising at a rate of over 10% each year.
During cerebrovascular surgery, it is essential for surgeons to carry out delicate surgical procedures while observing multiple sites concurrently, and any slight delay or imprecision in these procedures may result in complications. Kenichi Kono, CEO of iMed Technologies who has performed surgeries in healthcare institutions for 16 years as a neurosurgeon, started working on the development of AI that utilizes deep learning to offer surgical assistance in order to tackle this problem that he had experienced in medical care.
The funds raised in this round of financing will be used to strengthen the R&D system and accelerate the business development process in order to deliver AI offering surgical assistance for cerebrovascular surgery to clinical settings.