On September 11, SkyFarm announced that it had been selected for the smart delivery service of food at Yokohama FC stadium, a project supported by Kanagawa Prefecture.
Kanagawa Prefecture is currently working on projects to construct new business models that would solve issues caused by the spread of the novel coronavirus, relying on venture companies and collaborations of multiple companies. The concept of this project is "delivery service of food and drinks to stadiums using an exclusive app when home matched are held." It's a solution for eliminating crowds seeking food and drinks at the stadium as there is often little social distancing, and there are long lines to food stands at specific times like before the match or during half-time. It is a solution that develops and introduces a delivery/mobile order system.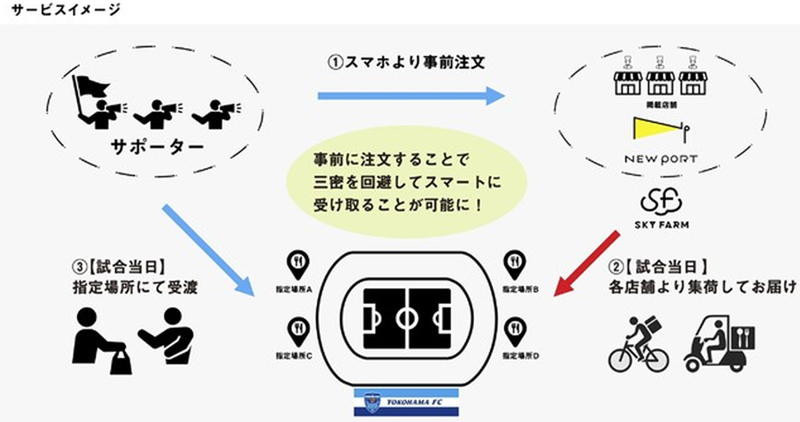 SkyFarm operates the delivery platform "NEW PORT." The company applied for the open call to collaborate with Yokohama FC (Yokohama Fulie Sports Club) and start up a smart delivery service of stadium food. It was selected as a project that the prefecture will support.
Both companies will utilize NEW PORT to update stadium food. The system will allow prior selection/payment of local food on NEWPORT with a system to receive food on the match day, and the company will develop and introduce a mobile order system to eliminate waiting in lines. These are said to be actualized by March 2021.