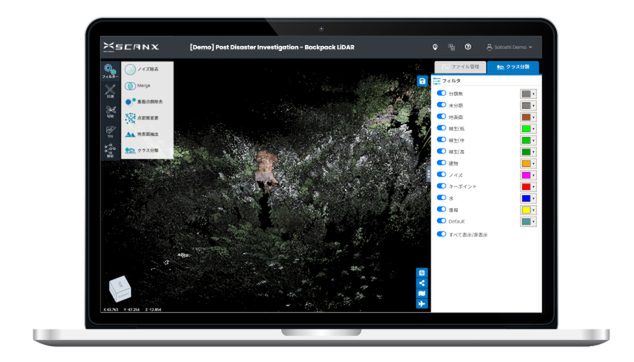 On September 17, ScanX released ScanX Cloud. The new software enables 3D point cloud data acquired using a variety of devices to be classified and analyzed online with a high degree of accuracy.
ScanX says that major general contractors, general insurance companies and survey companies of every kind have already introduced the software on a trial basis. ScanX Cloud analyzes 3D point cloud data from a variety of devices, removing noise and automatically extracting the ground surface. Supported data sources include terrestrial laser scanners (TLS), laser surveying with drones or aircrafts, vehicle-mounted mobile mapping systems (MMS) and SLAM-based backpack or handheld scanners. The company says that its software achieves almost twice the accuracy of conventional products in extracting the ground surface.
ScanX Cloud also supports analysis of buildings and trees. State-of-the-art statistical methods and machine learning techniques enable extraction of specific objects in accordance with the needs of the user. Individual trees can be distinguished to calculate their height and wood volume.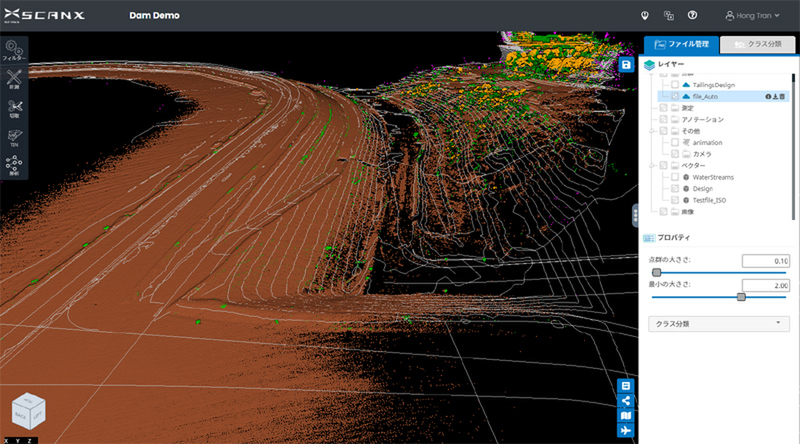 The software is capable of generating mesh data from point clouds. In addition to normal TIN generation, it also supports overhang TIN, which was difficult in the past. ScanX Cloud can also generate contour data and output it in a map data format.
For ¥29,800 (about $285) a month, users can purchase a license that allows 500GB (10 projects; 50GB per project) of point cloud data processing and analysis each month. A 30-day free trial campaign is currently underway. A feature to output progress management reports superimposed on map data is scheduled for release within the year.