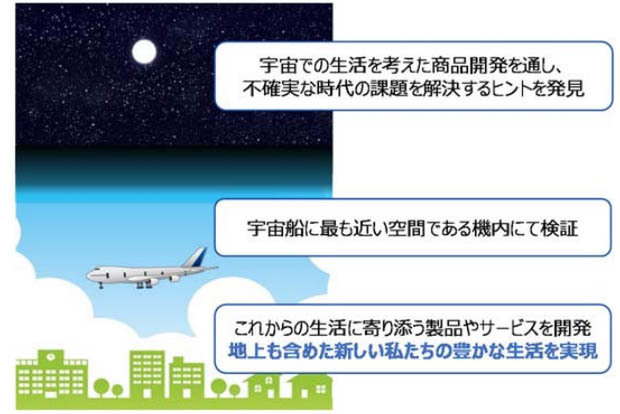 On September 11, Pola Orbis Holdings and ANA Holdings launched the CosmoSkin project, a joint initiative to develop products that will add beauty and comfort to life in space.
Through space-related initiatives, the Pola Orbis Group aims to develop useful ideas for the group's vision of the future. Similarly, ANA Holdings has launched a cross-departmental project to examine space as a new business frontier.
At the 2019 S-Booster space business idea contest, the Pola Orbis Group's "Beautiful Skin Wellness Tourism" won the ANA Holdings Award. This prompted the two companies to begin their collaboration on the CosmoSkin project. To develop cosmetics for the extreme environment of space, the research and development process will need to account for a variety of constraints. The product will require functionality suitable for the extremely dry environment of a spaceship, where water is precious. The method of usage must be appropriate for low-gravity environments. In addition, it must be designed for situations where resources are extremely limited and garbage must be kept to a minimum. Developing such a product is likely to also lead to innovations in cosmetics used on earth.
For the project's first phase, the companies will collaborate to develop cosmetics that can be used even in space, with commercialization targeted for 2023. The Pola Orbis Group will research and develop cosmetics suitable for life in space, leveraging the company's skin-related expertise and product formulation technology. ANA Holdings will provide an aircraft as a testing location. The environment inside an aircraft is said to more closely resemble the environment of space than that of the ground.