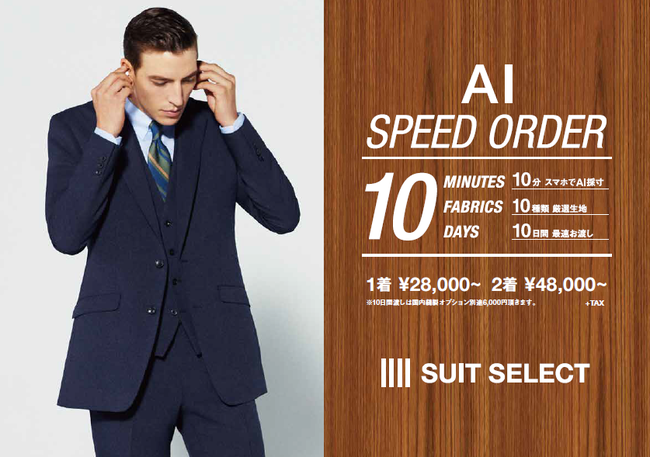 Konaka announced on September 9 that it has launched "AI SPEED ORDER," a service for custom-made suits that utilizes an AI automatic measurement app, for the company's dual-line/dual-price commercial outlet "SUIT SELECT" that is based on the concept of "real suits" and which has a presence both in Japan and abroad. This service will commence on September 12.
One common issue with custom-made suits is that shopping for them takes a long time, including the time needed for customers to take their measurements and select their preferred fabric. Konaka has developed AI SPEED ORDER in order to allow busy businesspeople to shop for their suits conveniently and quickly. With the number "10" as its keyword, this service allows customers to take their measurements in 10 minutes, select from 10 kinds of specially curated fabrics, and receive their suit in just 10 days.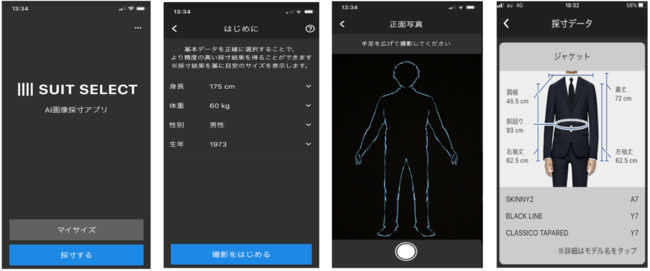 An AI automatic measurement app for smartphones is used for taking measurements. After the retail staff or the customer takes four photos using the app and enter the required information, the estimated size of the custom-made suit will be displayed. Measurements can be taken in as few as 10 minutes.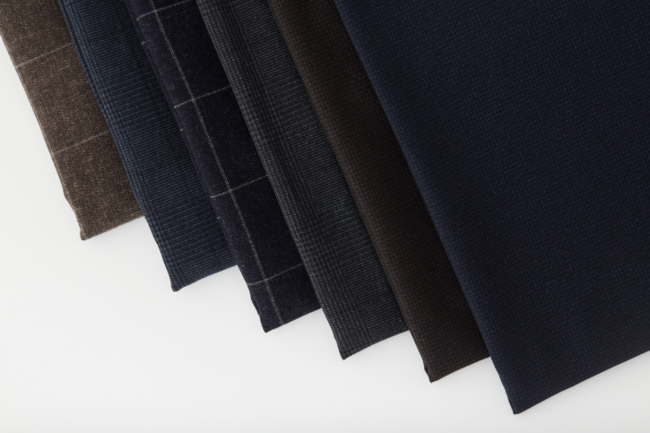 A total of 10 different kinds of specially curated "4S_SUIT fabrics" made using 100% high-performance polyester are available for selection, all of which popular products of SUIT SELECT. At the same time, the range of designs has been narrowed down as much as possible while offering customers everything from basic, plain suits to trendy variants such as those with houndstooth, glen plaid, and bird's eye fabric patterns.
The expected delivery time is 10 days from the order date for expedited delivery, and 3 weeks for regular delivery (as the suits are sewn in China). Prices in the case of regular delivery are 30,800 yen (around $358) for one suit and 52,800 yen (around $498) for two suits. For the 10-day expedited delivery, an additional fee of 6,000 yen (around $57) will be charged for each suit.
In addition, regular made-to-measure suits are also available. Customers can order made-to-measure suits using the image-based AI automatic measurement app, although only regular delivery is available for these.