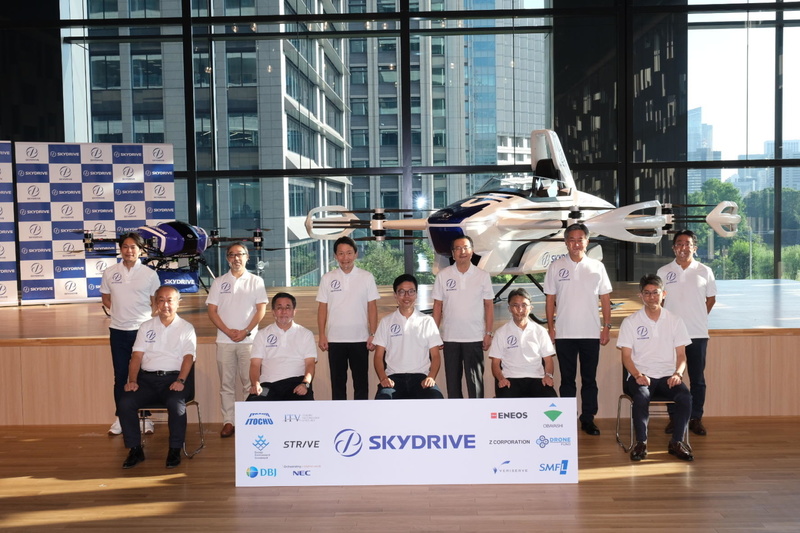 SkyDrive announced on August 28 that it has raised 3.9 billion yen (around $36.84 million) in its Series B round of financing through the third-party allocation of shares with 10 companies including the Development Bank of Japan as underwriters.
The 10 underwriters for the Series B round of financing are the Development Bank of Japan, Itochu Corporation, Itochu Technology Ventures, ENEOS Innovation Partners, Obayashi Corporation, Energy & Environment Investment, STRIVE, NEC Corporation, VeriServe, and Sumitomo Mitsui Finance & Leasing.

SkyDrive is a company that develops "flying cars" and industrial "cargo drones" that are specially designed to handle heavy loads. The official name of these flying cars is "electric vertical takeoff and landing-type unmanned aerial vehicles," which are characterized by their electrically-driven system, fully autonomous autopilot technology, and vertical takeoff and landing capabilities. As flying cars continue to be developed in various countries in the world following advances in the area of mobility technology, Japan has also convened the "Public-Private Council for Air Transportation Revolution" since 2018 that explores how these vehicles are expected to be utilized in the future as taxi services in urban areas, a new means of transportation for remote islands and mountainous regions, as well as a means of emergency evacuation in the event of a disaster.
SkyDrive has plans to fine-tune the vehicles by raising their level of development management from the level of prototypes to that of commercial aircrafts, while proceeding with the design of services and infrastructure development in collaboration with partner companies with the goal of commercializing these flying cars by 2023.
The cargo drones will be built to address labor-related needs in mountainous areas in the first instance by solving problems encountered by users through the utilization and operation of these drones. Plans after 2022 include the production of safe and reliable drones as well as the launch of associated services that can be widely utilized for logistics in urban areas.

Related article:
Launch of manned flight tests for "flying cars" slated for release in 2023