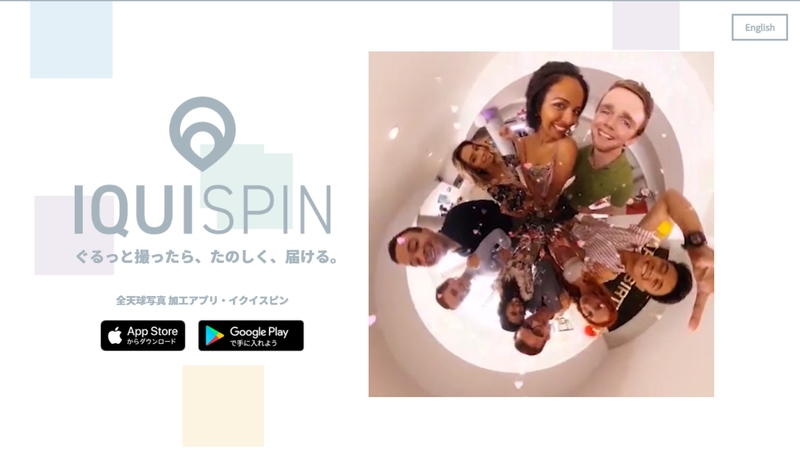 Vecnos has released "IQUISPIN," a smartphone application that allows users to add motion patterns and special effects to photos taken using 360-degree cameras and easily create short videos, on August 28. Short videos created with IQUISPIN can be shared on social media platforms, as well as via email and SMS.
In addition to functioning as a 360-degree camera currently developed by Vecnos that is scheduled to be released later this year, IQUISPIN is also an open-sourced tool that allows users to utilize 360-degree photos taken using cameras developed by other manufacturers in creative ways.
Photos taken with 360-degree cameras hitherto have been difficult to share via social media and email due to issues with their file format. By easily converting these photos into short videos, IQUISPIN will vastly expand the possibilities of how these 360-degree photos can be enjoyed as they can now be conveniently shared on social media.
After IQUISPIN is installed, the app will automatically detect 360-degree photos on the smartphone that can be edited. The user can select a 360-degree photo they wish to edit and add motion patterns or special effects such as flower petals, soap bubbles, or hearts to the photo by simply selecting one of the preset templates. In addition to editing photos using preset templates, users can also select their favorite motion patterns or special effects separately. More effects will be added to the app in due course.
Edited photos that contain motion patterns and special effects can be converted into video files and stored as short videos with a square aspect ratio. These short videos saved on smartphones can also be easily shared on various social media platforms, as well as via email and SMS.
360-degree photos that can be opened with IQUISPIN include JPEG photos with an aspect ratio of 1:2 that are saved in the commonly-used 360-degree photo format Equirectangular Projection Format (with image files larger than 4096×8162 px downscaled to an appropriate size). Supported devices include smartphones that are running iOS 13, Android 7.0, or later versions of these respective OS.
Along with the release of this app, the company is currently organizing a contest where 50 lucky users who tag their Instagram posts featuring short videos created using IQUISPIN will win a 360-degree pen camera currently under development at Vecnos. This contest will be open until September 30 and more information on this contest's terms and conditions can be found on its website.