On August 24, it was announced that Pocket Marche had raised a total of 850 million yen (about 8 million dollar) in funding through third-party allocation of shares with six companies, including Marui group and Orange Page.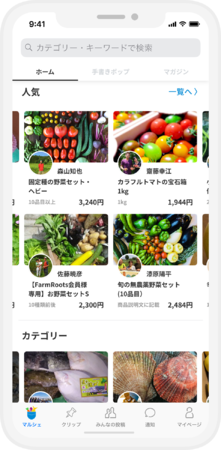 Pocket Marche is a platform where customers can buy seasonal food directly from farmers and fishermen throughout the country. By enabling the buying and selling of agricultural and marine produce through direct communications between the parties, this platform has given rise to many connections that go beyond a simple buyer-and-seller relationship.
In the present age of "life with Corona", the value of direct connections between producers and consumers is becoming more widely recognized. At the time of the company's fundraising in 2019, the number of registered producers increased from about 1,600 to about 3,200 and the number of registered users from about 40,000 to about 210,000.
The funds this time were raised from six companies that share Pocket Marche's mission of "connecting individuals" and its vision of "realizing a society of cooperation."
These funds will be used to add new and improve existing functions of the Pocket Marche platform, to strengthen the support of producers for example by offering seminars about increasing sales performance with SNS, to expand real-world locations such as "PokeMar stands" or markets where foodstuffs delivered directly from producers can be purchased in stores, and to further strengthen cooperation with local governments.