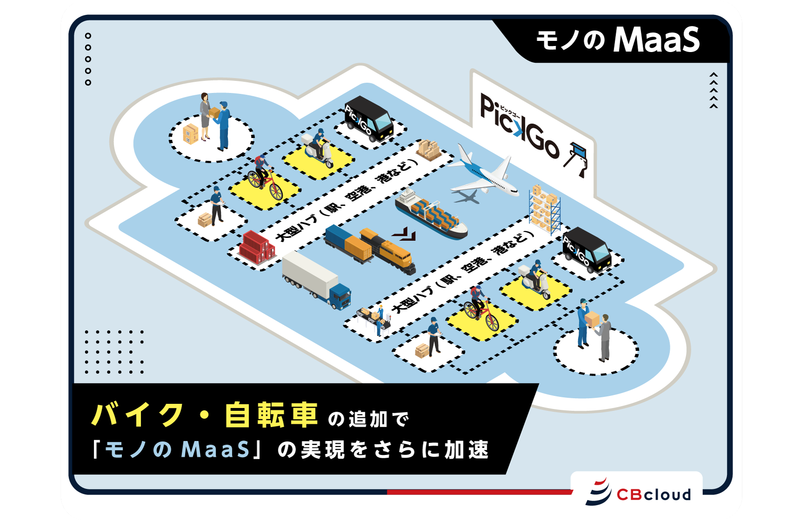 On August 21, CBcloud announced that it will begin recruiting partners for delivery operations using motorcycles and bicycles for its PickGo delivery matching platform. The company aims to begin delivery service using motorcycles and bicycles this fall.
PickGo began service in 2016 to resolve structural problems facing the logistics industry including a multi-subcontracting structure, inefficient environment, and a shortage of drivers. The company is partnering with a variety of shipping services, such as deploying an integrated land-air shipping service with ANA Cargo and conducting proof-of-concept for a luggage delivery service with the JR East Japan Group, to achieve "MaaS of Things" (MaaS = Mobility as a Service) by using the cloud to seamlessly and instantaneously connect shippers with the optimum transport method.
And this fall the company will add motorcycles and bicycles as a new transport method to accelerate realizing of the MaaS of Things concept.
The motorcycle and bicycle partners the company is recruiting will mainly support the PickGo Personal Shopper service while also expanding services in the future. Partners are being recruited who can conduct delivery operations within the 23 wards of Tokyo. Recruitment is being conducted through a special website page.

Related article:
Japan Post introduces CBcloud's SmaRyu Post system to enhance home delivery efficiency
CBcloud releases "SmaRyu," an innovative new brand that makes "logistics smarter from the site"