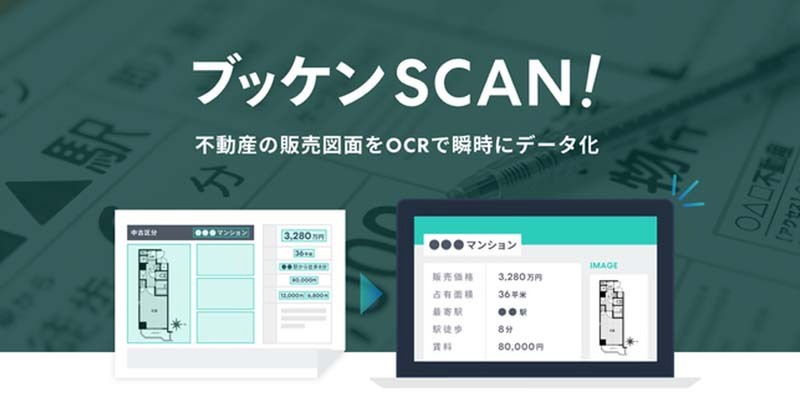 Renosy X began providing its Bukken SCAN! automated scanning (OCR) tool for real estate sales listings on August 6.
Sales listings include a summary of the property, the floor plan, and maps, etc., all in one place, making them indispensable in real estate dealings, but are mainly handled on paper. The information from sales listings obtained by real estate agencies is manually input every day to record it in their in-house systems and list it on their company website or web portals for attracting potential customers. Currently, many financial institutions obtain sales listings for every home loan application, and discard them after analyzing the property information.
Bukken SCAN! is developed with the aim of improving productivity by automating the input of property information. The ability to digitize and store sales listings makes it possible to build a database of sales listing, simplifying and streamlining property information management for real estate agencies and financial institutions. It also uses proprietary technologies to classify data even for the differing layouts for sales listings used by each real estate company. Around 20 different entries recorded on sales listings can be scanned automatically, including the property name, price, address, building structure, and building age.
Bukken SCAN! is offered as a web service, and potential users can try a free demo in which the scanned image the upload is converted into data. Introducing the service requires contacting the company. They are also soliciting partners to jointly develop plugins for the system and APIs.
The company aims to further improve productivity by linking data automatically scanned from Maisoku using Bukken SCAN! to contracts and disclosure statements.