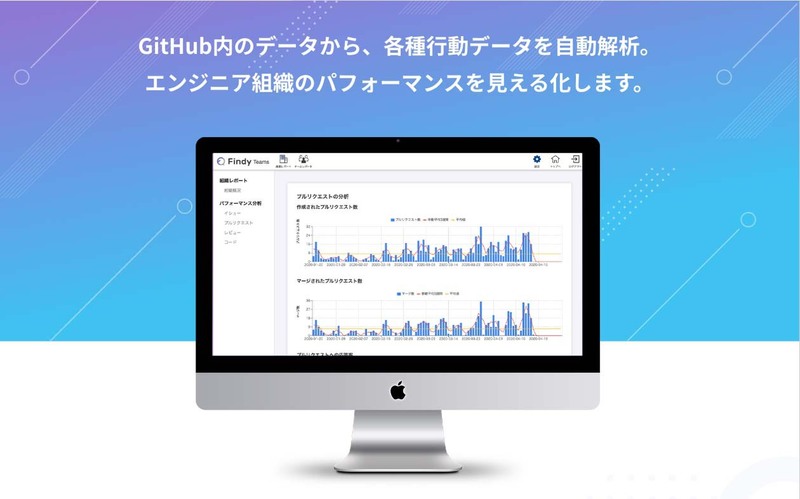 Findy announced that it has raised 770 million yen (around $7.26 million) in funds on August 3. These funds were raised through a combination of loans and third-party allotment of shares with Global Brain (an existing investor) as the lead investor, and United, SMBC Venture Capital, KDDI (KDDI Open Innovation Fund No. 3), JA Mitsui Leasing, Hakuhodo BY Future Design Fund (Hakuhodo BY Ventures), and Mizuho Capital as underwriters.
Findy is a startup that offers one-stop support ranging from high-precision matching services between engineers and companies to the strengthening of development capabilities. The company launched "Findy Tenshoku" in May 2017 and "Findy Freelance" in February 2018 by drawing on its proprietary algorithm that offers visualizations of the skills of engineers and the appeal of various companies. In April 2020, Findy launched the beta-version of "Findy Teams," a service that automatically assesses the productivity of engineering organizations and helps to enhance their productivity.
Although digital transformation remains one of the central challenges for the Japanese economy, there are concerns over the lack of engineering talents who are capable of facilitating this transformation. Findy aims to support engineers who wish to find a job at a new company as well as engineering organizations that are attempting to improve their productivity by drawing on its core technology that allows for the skills of engineers to be visualized via GitHub analysis. The funds raised in this round of financing will be channeled towards the acceleration of product development, marketing, and sales activities, as well as the expansion of business operations with an eye on collaborating with the companies and corporate venture capitals who are leaders in their respective industries as new shareholders of Findy.

Related article:
Launch of β-version of "Findy Teams" which allows companies to visualize the productivity levels of engineers from GitHub activity status