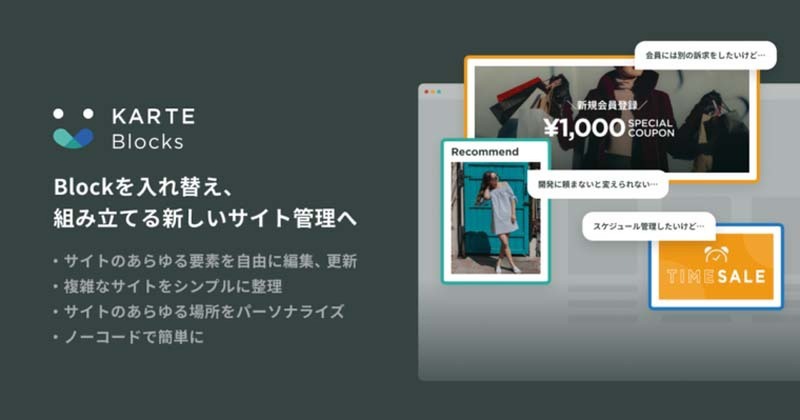 On July 30, Plaid began the closed beta of KARTE Blocks, the new product for its CX platform KARTE. The service is provided free of charge to a limited number of existing KARTE-using businesses for a limited period of time.
KARTE Blocks conceives of each construction element of a website as a Block—an individually updateable and editable unit. Each Block's performance and effectiveness can also be visualized individually. With its Block Management System (BMS), Plaid proposes a new approach to site management. With the addition of a single tag, the various elements of a site can be divided into a new unit, the Block. Sites can then be reinterpreted as an assembly of Blocks. Site elements are freely and intuitively grouped together, and those groups, as Blocks, are individually arranged, managed, and evaluated.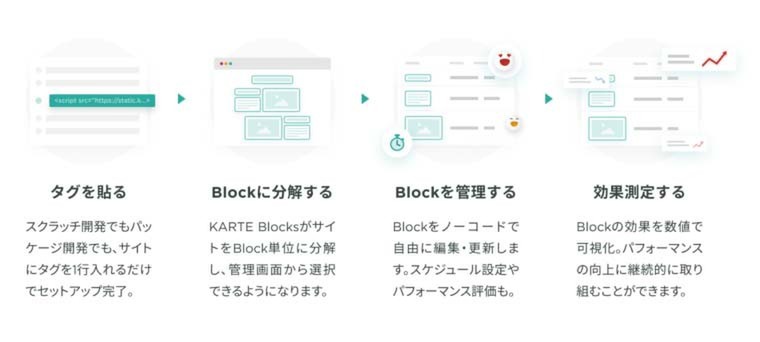 The service offers an environment for precise operation of sites without adding workload, by using the management screen to arrange complex sites so they are easy to understand and provide a big-picture visualization. In addition to making it simple to perform AB tests, KARTE Blocks allows users to easily personalize their site. Anyone can easily edit and customize their site with KARTE Blocks' no-code approach.
A feature to automatically divide sites into Blocks and automatically evaluate performance is also in development. KARTE Blocks can automatically visualize the performance of each Block, allowing users to grasp the effectiveness of a site at a glance with no need for complex configuration or advanced analysis, assisting users in achieving better site performance.

Related article:
Launch of new service that allows for low-cost customer surveys to be conducted through the online customer analytics service "KARTE"
Simple CX survey for e-commerce businesses offered for free until the end of August