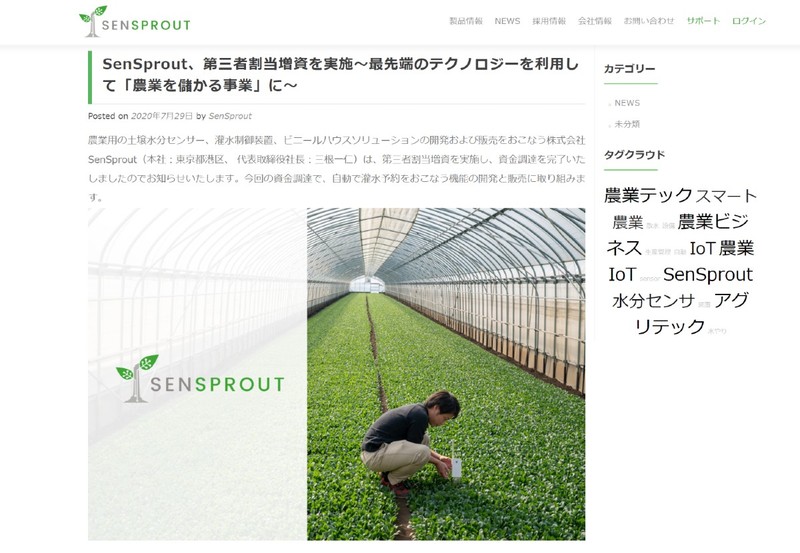 SenSprout announced on July 29 that it had completed a funding round through a third-party allocation of shares. The funding round was backed by JMTC Capital, GMO VenturePartners, FGN ABBALab, Shibata Shoji, Yosemite, Regain Group and Hiroshi Tomishima.
SenSprout's past products include agricultural soil moisture sensors, irrigation control systems and advanced greenhouse solutions. The company's SenSprout Pro Irrigation Control System combines its SenSprout Pro Sensor System for measuring agricultural soil moisture with an automatic, remotely controlled irrigation system. The system is used by a wide variety of companies and farmers, including Daiwa Securities Group, Kajitsudo and the JS Fukuoka Ooki Asparagus Group.
With the SenSprout Pro Irrigation Control System, irrigation can be scheduled from a remote location using a PC or smartphone, with no need to go to the field. The system also enables management and recording of irrigation.
After introducing the system, one asparagus farmer was able to reduce the time spent on irrigation work each month from 60 hours to a few minutes. The farmer's trips to the field dropped from two a day to one every two days. The farmer was impressed that the system allowed the temperature and water content of the soil inside the greenhouse to be checked while away from the greenhouse. The farmer also appreciated the ability to water plants automatically by setting the irrigation timer.
With the newly raised funds, the company aims to develop and market a new irrigation algorithm. The algorithm would automatically schedule irrigation with the irrigation controller based on the soil moisture, as measured by soil moisture sensors. The new feature would increase productivity while reducing the cost of agricultural production, enabling businesses to be expanded.
SenSprout is also working on the digital transformation (DX) of tasks in the agricultural sector, with plans to launch multiple DX projects. The company intends to use the new funds for these projects as well.