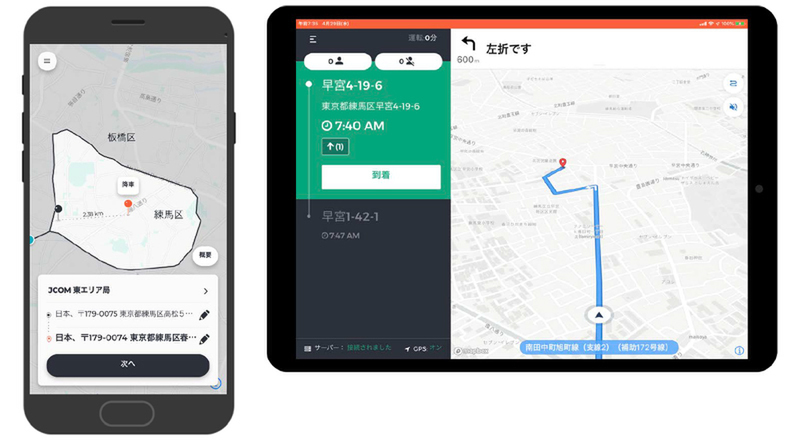 On July 16, Jupiter Telecommunications (J:COM) launched the trial for "J:COM For!," a ridesharing service for around 4,500 J:COM commercial vehicles across Japan.
The loss of viable modes of local transportation is becoming a serious social problem with more elderly drivers returning their driver's license. J:COM is considering offering "J:COM MaaS" in the future, a ridesharing service that would make daily travel within one's local area more convenient.
J:COM currently owns around 4,500 commercial vehicles nationwide, which are operated by their staff members who drive these vehicles on their own to visit users at their residence. During the trial, large vehicles that allow for the ridesharing of multiple staff members (and driven by attached drivers) will be introduced and offered as a means to support the transportation requirements of the company's business activities.
The J:COM MaaS app allows staff members to specify their boarding point, destination, as well as their desired time of arrival. The app will determine the optimum vehicle and travel route before informing the driver of the navigation information necessary to reach the destination. A boarding pass containing the scheduled time of boarding and estimated time of arrival will then be issued to staff members. If there are already staff members on board the vehicle, the travel route will be reset in real time. Staff members will then be able to board the vehicle at the specified time and arrive at their destination by the time they have scheduled to meet with users.
The introduction of this ridesharing service will reduce the number of commercial vehicles required and CO2 emissions. In addition, this trial will facilitate the accumulation of various data through the J:COM MaaS app, enhancement of algorithms, and improvements to the app UI/UX, which will allow the company to review the utility and potential of the ridesharing service prior to its official launch.