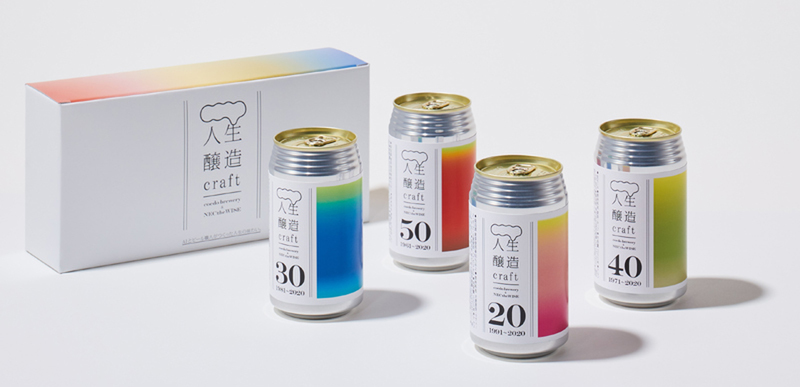 On July 15, Nippon Denki (NEC) and Coedo Brewery finished developing Life Brewing Craft, a range of craft beers made to represent the characteristics of each generation using AI analysis. They are available for purchase on the Coedo Beer online shop.
Using NEC the WISE, NEC's cutting-edge AI technology, they analyzed images and text from fashion magazines published when each generation was in their twenties (when they would have started drinking), and the master craft beer brewers at Coedo Breweries created four types of beer to represent people in four different decades of their life (20s, 30s, 40s, and 50s).
Shogakukan staff measured fashion images with indices such as "fashion taste" (color scheme, sweet/spicy, feminine/conservative, etc.) and "style" (sweet/sour/bitter/dry), and used this data to train NEC the WISE's deep learning AI technology "RAPID Machine Learning" to analyze and quantify the characteristics of fashion images.
The lineup features four products: "Life Brewing Craft: 20's PINK" for people in their 20s, "Life Brewing Craft: 30's BLUE" for people in their 30s, "Life Brewing Craft: 40's YELLOW" for people in their 40s, and "Life Brewing Craft: 50's RED" for people in their 50s. For example, "40's YELLOW," made for people in their 40s, was created using fashion images from issues of the magazine CanCam, which was released when people now in their 40s were in their 20s (1991 – 2000).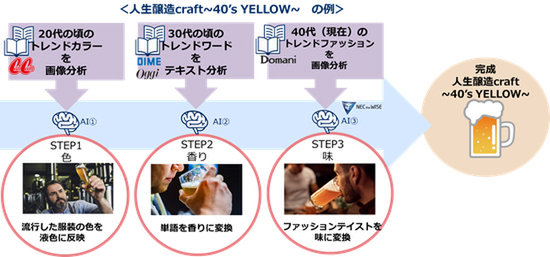 Each type comes in a box of four 350mL cans, which costs ¥1540 (around $14).