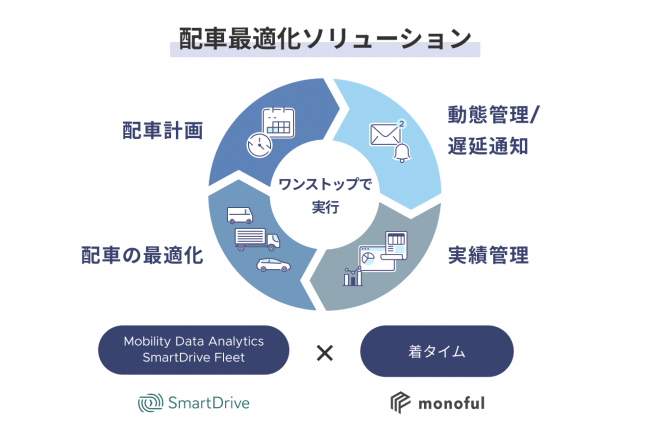 On July 10, SmartDrive announced it would begin provision of the new service "ChakuTime," a delay automatic notification service for the logistics industry that it jointly developed with Monoful.
SmartDrive provides new services covering mobility in the IoT age based on big data collected and analyzed by a variety of mobility related sensor devices. Monoful provides administrative services for vehicle dispatching and human resource management operations.
ChakuTime is a service that identifies the position of a vehicle in real-time, calculates the estimated time of arrival (ETA), and sends an automatic email notification of the ETA including delays. This improves the efficiency of operations that up to now have required telephone communication among the driver, shipping company, and consignee.
With the start of ChakuTime, integrated management of the PDCA cycle for logistics is now possible including dispatch planning, dynamic management, delay notification, performance management, and dispatch optimization by linking together the vehicle management, efficiency promotion service SmartDrive Fleet, and Mobility Data Analytics provided by SmartDrive.