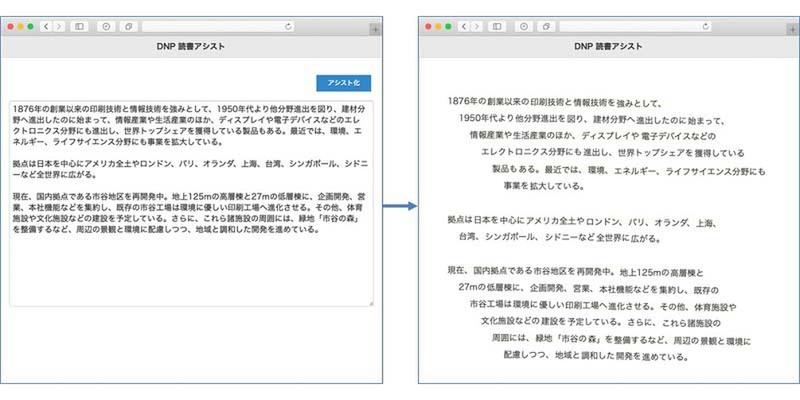 On July 10, Dai Nippon Printing (DNP) released "Reading Assist," a technology that enhances readability with text layouts, free of charge for a limited time.
The company's technology enhances the readability of text by automatically guiding the reader's line of sight through via its layout, for which they are working on research and development for Reading Assist. It uses a unique text display algorithm to smoothen the movement of the eyes while reading. It is text layout conversion technology that improves the speed of reading by leading the reader to navigate through each clause of Japanese sentences (clusters of meaning) by arranging the characters and changing line breaks. It reduces extra eye movement, which can slow down your reading speed.

The company began joint research with the Future University of Hakodate in 2012, and based their development on cognitive mechanisms. A person can typically read 400-600 characters per minute. In contrast, their product allows people to read up to 1,000 characters without special training.
DNP launched "honto," a hybrid general bookstore that offers electronic books and other items, in 2010. As part of their operations and services, they are working to research technology to display text that is easy to read on smartphones and tablets. They are working together with Nihon Unisys to conduct tests on Reading Assist technology to explore new needs and to improve the efficiency of reading and studying.
For their current testing, they are offering a dedicated website and plug-in software free of charge. The plug-in uses a Chrome extension and API to read any text prepared by the user. You can convert them for easier reading with an assist. You can also view the free Aozora Bunko novels converted and displayed on their dedicated website.