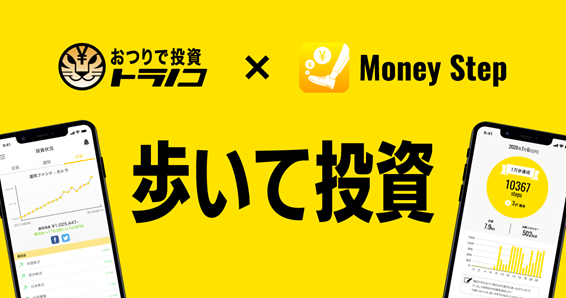 Toranotec announced on July 6 that it started offering a pedometer app called "Money Step" that allows you to earn funds for investment just by walking. It is available on iOS, and the Android version is scheduled to be released this fall.
Money Step is a pedometer app that allows you to earn ¥3 (about 3 cents) for 10,000 steps or more per day and ¥10 (about 9 cents) for 200,000 steps or more in a month. The funds are accumulated as Toranoko points (1 point is equivalent to ¥1) that can be used for investment with the asset management service "Toranoko" provided by the company's subsidiary, Toranotec Asset Management. Points have no expiry date and can be earned until the day you start investing, no matter how many years or months later.
In addition to keeping track of steps, calories, and distance, it also has a calendar function and a diary function.
Toranoko is an app service that allows you to invest the amount of change you get from shopping, which is calculated from your daily shopping data. You can select one out of three funds, and you can diversify into stocks and bonds around the world in increments of ¥5 to ¥1. It also has an investment function that uses points from electronic money and mileage cards, and a function that allows you to earn funds for investment by watching videos. It is said that even users who have never invested before can get started on long-term asset formation without difficulty.

Related article:
Launch of "Real Change Investment" proof-of-concept project that turns everyday change into investment fund