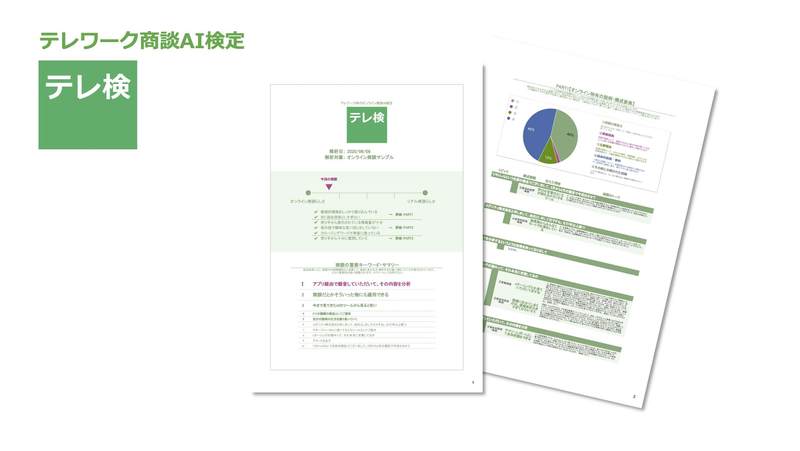 On July 1, following the proliferation of teleworking which led to the rapid rise in online business negotiations, Cognitee started providing a new service called "Teleconference Evaluator" which uses AI to check business negotiations during teleconferences and evaluate them to help close business deals.
The users of this service expect to increase their business dealing skills in the new business setting that is teleconferencing, by evaluating if their traditional business skills also work during telework.
Before starting the service, the company conducted a survey to find out difference in the success rate in closing business deals between face-to-face business negotiations and online business negotiations. They compared online business negotiations with traditional face-to-face business negotiations between companies using their service "UpSighter". With the purpose of finding out the essential elements for online business negotiations, they found out that as it is difficult to see the other person's facial expressions and reactions during online negotiations, it is important to prepare concise information that can be explained in a short amount of time and to increase the amount of questions to confirm their thoughts.
Cognitee. started the Teleconference Evaluator service to evaluate the "presence of essential elements in business negotiations during teleconferences" as evidenced by the results of this survey and show them what they can improve on. Companies using this service say that by checking "if the skills used during face-to-face business negotiations also work in online negotiations", they could increase the skills of their employees to successfully close deals in online business negotiations, so it is expected to help quickly establish the new way of doing business and turn them into a force to be reckoned with. Furthermore, Cognitee mentioned that to allow more companies to use it, they have lowered the cost, kept the cost around the same as transcription service, and allow customers to be charged per minute usage.

Related article:
Sales talk analysis company Cognitee procures $4.5M