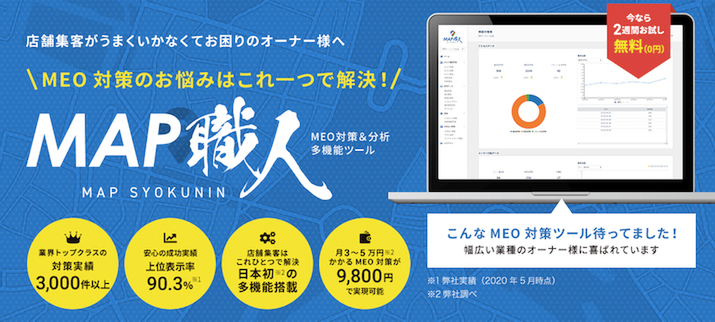 On July 1, Free Square announced MAP Shokunin, an MEO support and analysis multifunctional tool that solves customer attraction problems for stores. It will be released July 7.
Optimization to display a company with a high ranking in Google search results is called "SEO optimization," and companies have spent a lot of money to increase their display ranking in search results even a little higher than that of their rivals, but recently Google has been displaying the "Google map special frame (map, photo, store information)" above the search results. The optimization system for the map version of the optimized SEO that uses the Google map special frame to achieve the top display is called MEO (Map Engine Optimization), and because this easily produces results, it is a low cost way to attract customers to a store, clinic, or other business.
MAP Shokunin includes a variety of tools that utilize Google My Business. The available functions include a "Rank check function" that displays the top 40 rankings, a "Wide area ranking check function" that can measure 25 locations around a store, the "Top display advice function" that provides long-term storage of insider data for the past 36 months and that can check expert advice, and the "Multiple store batch management function," which can batch manage multiple stores. The service also provides word-of-mouth promotion functions, such as "Word-of-mouth request," "Word-of-mouth reply management," "Questionnaire function," and "Report function" among others for the lowest price in the industry.
General MEO providers charge about 30,000 to 50,000 yen (approx. $280 to $465) per month for outsourced MEO support, but compared to this, MAP Shokunin provides the tools for MEO support and analysis for free the first month and 9,800 yen (approx. $91) per month thereafter.