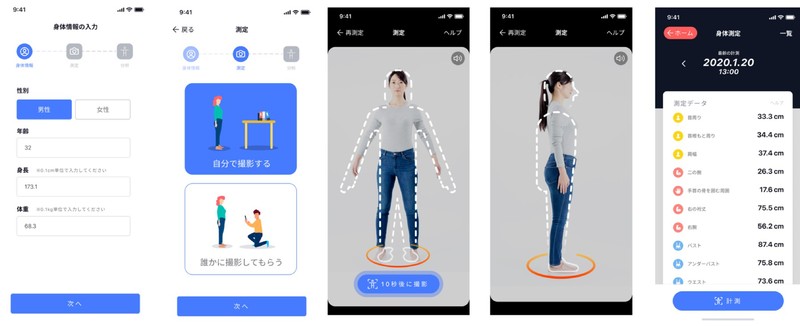 On June 26, Bodygram Japan announced the start of the provision of its AI measurement technology as its own app "Bodygram" on the App Store and Google Play. The said technology was originally provided only to select companies and services. This makes it possible for anyone to easily measure their entire body and view their measurements.
Bodygram is an app that allows users to estimate 24 parts of the entire human body by entering their sex, age, height, and weight and then taking a picture of the front and side of their body using their smartphone camera. Users will be able to easily grasp the size of their entire body like that of conventional measuring methods.
Users will be given a Bodygram ID for storing measurements upon registration. Logging in using the Bodygram ID allows users to use their past data when using apps and services of companies that have adopted Bodygram technology. Users can also select which companies to share their ID and data with.
Bodygram is provided for general users but can also be independently used by companies via combining it with their own services. The app can also be used simply for its measurement function, or as a stepping stone before companies develop their own application.
As a corporation, Bodygram Japan has already decided to implement the application to Crossfit Minatomirai and Crossfit Tsujido and is considering joint developments in the retail field. To promote the app's use in a wide range of fields, Transcosmos will be its first domestic partner for providing development support for sales and partners.