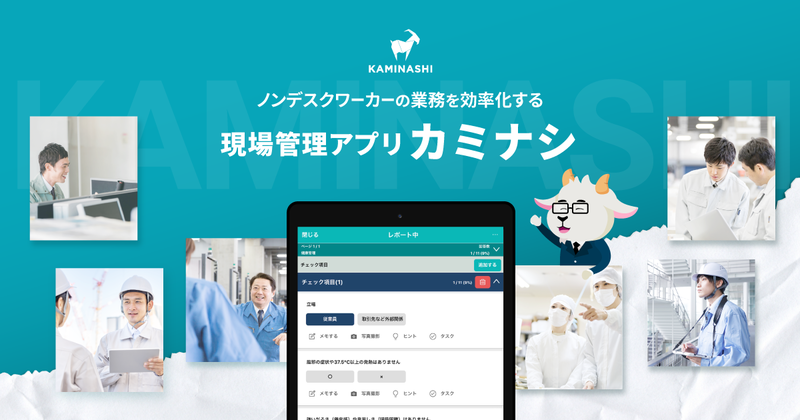 On June 29, Kaminashi, a management application touting the ability to improve the efficiency of non-desk workers, announce its official start.
Kaminashi is a service that uses a mobile application to automate and eliminate routine and unnecessary work that people don't need to do. The application can enforce correct work procedures on behalf of supervisors and automate inefficient paperwork (converting handwritten information into data, visual checks, approvals, pasting to Excel, calculating, reporting and searching via email).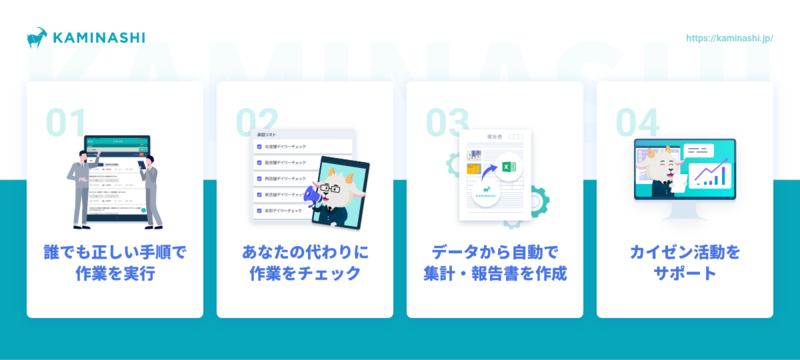 Since the company launched preliminary inquiries in November 2019, it has received more than 550 inquiries from companies in manufacturing, retail, food service, and transportation industries, and more, with 30 companies implementing the beta version, which was launched in March of this year.
Kaminashi has a scenario feature that allows checklists and manuals to be changed depending on the results entered by workers. By creating an optimized workflow, it guides the worker through the standardized work process.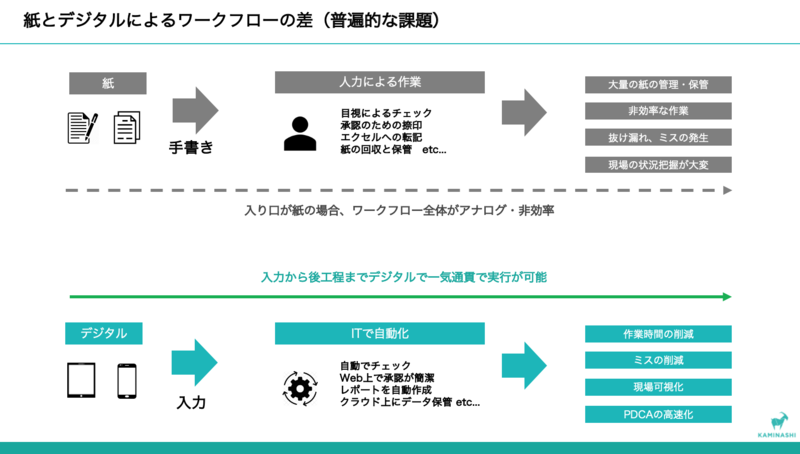 It also monitors the result achieved in the place of managers. It automates the checking of work slips, which were once done by hand, and completes approval tasks within seconds. It also allows you to access on-site information online at any time, from anywhere.
In addition, it can automatically create daily logs and reports using data input on-site and send it to specific users. It includes features that allows it to support all facets of an efficiency improvement routine, from on-site audits and checks, notes regarding possible improvements, and final reports. It allows you to use your current Excel formats for daily logs and reports.
The service starts at ¥5,000 (approximately $46) for each user per month (the minimum contract requires 10 users). The initial cost is two months of your monthly fee. At present it is only available for tablets, but the company is scheduled to prepare applications for smartphones within the year.
The company says the application can be used in industries such as manufacturing, food service, supermarkets, hotels and other services, transportation and travel, maintenance, construction, and cleaning.
In the future, they are slated to continue to develop services involving the development of horizontal SaaS features and the promotion of basic task digitization in their efforts to further digitize the work of non-desk workers.