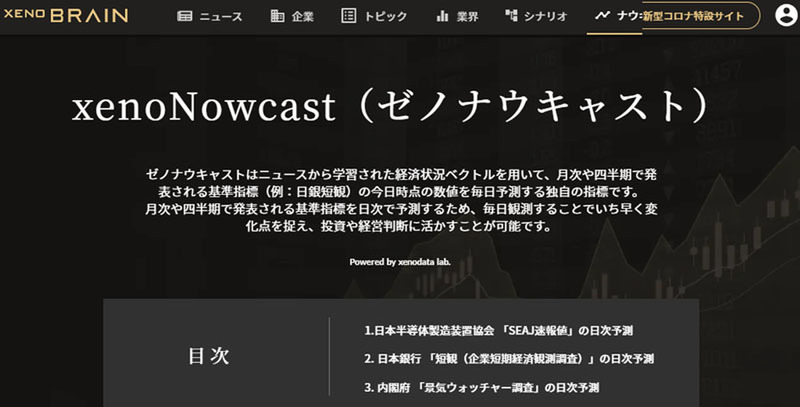 On June 24, Xenodata Lab. launched the provision of xenoNowcast, a proprietary prediction value that provides daily predictions for industry statistics announced monthly.
The company offers xenoBrain, a SaaS-based AI service that provides score-based evaluations of the economic future. While the Bank of Japan's Tankan economic poll and various industry statistics are used as important indicators for evaluating business sentiment in the economy as a whole or in specific industries, statistical values are fluctuating wildly amid the unclear industry environment and economic outlook, as seen in the spread of novel coronavirus pandemic.
The company's xenoBrain turns properties obtained from news into characteristic quantities and summarizes them at arbitrary times to make predictions of economic conditions. It analyzes 5000 items of news data and company information every day to predict company performance, industry demand, and materials prices. Every day it makes predictions of daily changes in proprietary indicators that correspond to standards and indicators announced monthly and quarterly.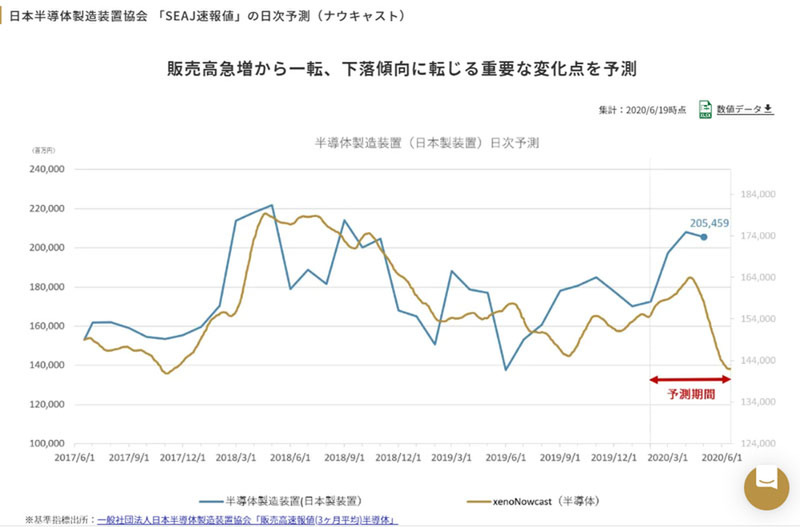 xenoNowcast is provided in daily email form as a function of xenoBrain. As its first release, it will provide daily prediction values for six indicators, including the Bank of Japan's Tankan (large companies, futures, manufacturing industry), Japanese semiconductor manufacturing equipment (SEAJ Express Report), and "current judgment of economic conditions DI (seasonally adjusted values)" (nationwide, total). The company says that it will expand the indices subject to prediction in the future, in line with user requests.
In addition, the company will provide a free public release of four of the above indicators for a limited time (with daily indicators updated weekly in the free release).