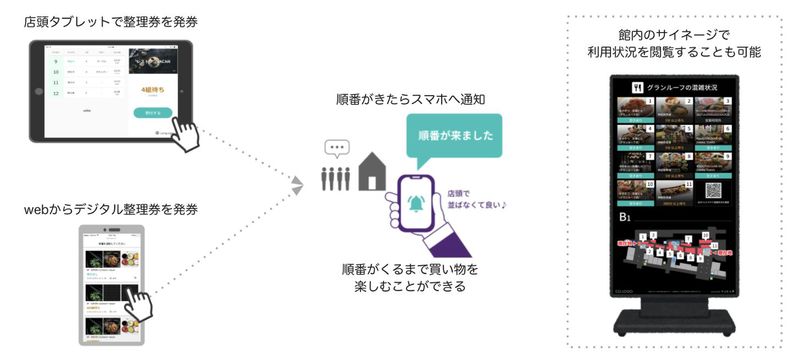 On June 23, Vacan and the JR East Japan Group Tetsudo Kaikan launched a trial for the online numbered ticket service "VACAN Noline," which allows guests to wait for their turn without queuing up, at the commercial facility "Granroof" located at the Yaesu Exit of Tokyo Station.
Users of this service can spend time in the facility while waiting for their turn without queuing up by obtaining a numbered ticket online or at the store as they will receive a notification on their smartphone when it is almost their turn. Multilingual support is also available for foreign tourists in Japan. This initiative will be in place until July 2020 on a trial basis and members of the general public are free to take advantage of it.
This initiative allows guests who wish to visit the restaurants on B1F of Granroof to obtain a digital numbered ticket online and join the queue without having to physically visit the restaurant. It is also possible for guests to join the queue by obtaining a numbered ticket from the tablet at the restaurant. By registering their email address, a notification will be sent to their smartphone when it is almost their turn.
While waiting for their turn, users of this service can freely roam the facility, which alleviates the stress of having to wait in line in front of the restaurant and gives rise to new consumption possibilities. In addition, the queue status is also displayed on digital signages installed at two different entrances of Granroof. Displaying this information on digital signages allows users to determine the extent of crowding at restaurants and shops in the facility at its entrances and make an informed choice on which restaurants or shops to visit.
The company has previously drawn on the power of IoT and AI to offer services that utilize information on vacancies in restaurants, commercial facilities, and other places, but it received requests from users in the past who indicated that they would like to enjoy shopping while waiting for their turn, or join the queue before or when they are on their way to the store. It has been said that the more people queue at popular restaurants, the more members of their staff would be required to manage the queue, which in turn leads to further crowding. This initiative will be able to make things more convenient for users while reducing the number of man-hours required for queue management at restaurants.
Through this trial, Vacan will further deepen its expertise and knowledge of queue management, including at popular restaurants, and extend the use of this service to various other facilities where queue management is essential.

Related article:
"VACAN," a new technology that allows users to verify how crowded or vacant shops are