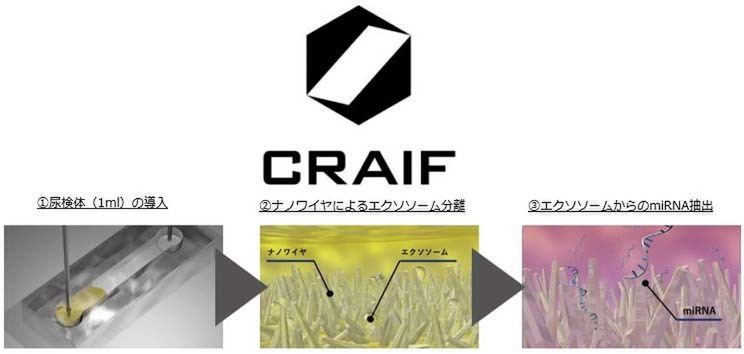 On June 17, Icaria announced that it had obtained Series A funding. The funding was obtained from FF APAC Scout, a scout fund of Founders Fund, a US venture capital firm, as well as a major Japanese company and a US investment fund. At the same time the company changed its name to Craif.
Craif (formerly Icaria) is a venture company that was started at Nagoya University. Exosomes are captured from urine and applied to medical treatment in combination with artificial intelligence (AI) to build an exosome biomarker platform.
Exosomes contain a variety of biomolecules, including nucleic acids and proteins, and they are gaining attention as biomarkers. Using the device the company is currently developing will make it possible to extract exosomes with high efficiency and detect over 1,300 types of miRNA, which are deeply involved the occurrence and worsening of disease in patients. The occurrence patterns of the miRNA can be detected with high accuracy through analysis using machine learning. The company aims to develop tests for the highly accurate detection of cancer from one drop of urine and make possible the selection of the optimum treatment for each person.