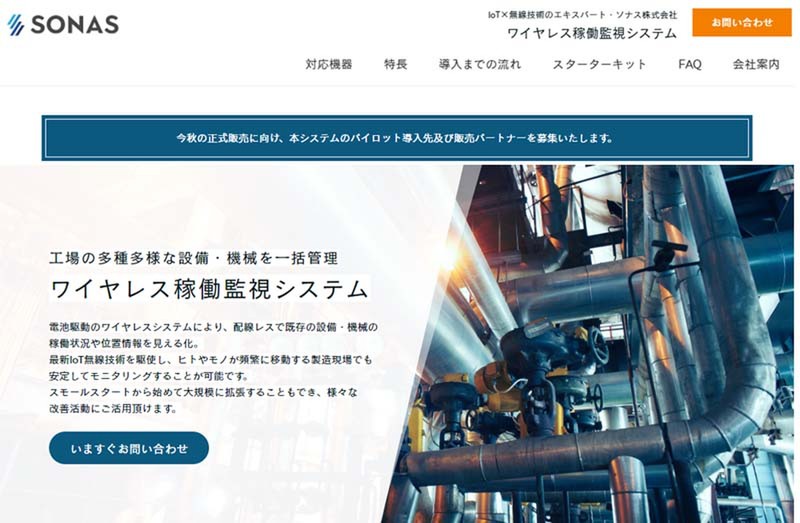 On June 2, Sonas made a full-scale move into the smart factory business area. As an advanced sale, the company has released a wireless operation monitoring system as a labor-saving measure for operation monitoring.
The company is developing power-saving multi-hop wireless for the IoT called UNISONet. Concurrent-Transmission Flooding, which is the transfer method that will be used, simultaneously satisfies the essentials required of IoT wireless: stability, low power consumption, high speed, two-way low latency, lossless data compression, time synchronization, and the ability to handle multiple devices or units of equipment.
The newly-developed factory operation monitoring system digitizes the operating status and location information of existing equipment and machinery without the need for wiring, enabling stable monitoring in manufacturing facilities where people and objects are in frequent motion. Some 100 units of equipment and machinery in different locations throughout a large facility can be uniformly managed through the one network, and machinery can be flexibly added to the system even after installation. Features of the system include the lineup of various sensors that make it compatible with old equipment, its ability to continue monitoring even when machinery has been moved around due to its resistance to fluctuations in the electro-magnetic wave environment, and low power-consumption that makes the system usable for up to five years.
In advance of official sale scheduled for this fall, Sonas is looking for companies to become sales partners and pilot users of the system.