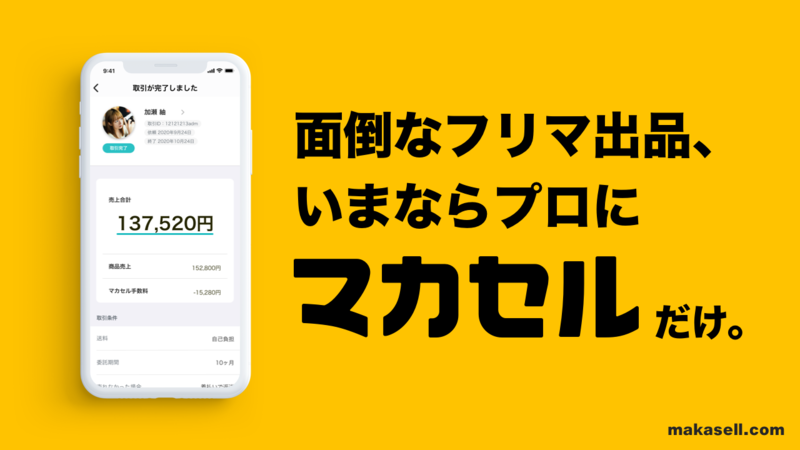 On June 2, Mono Technologies launched a sales agent matching platform called "Makasell."
Makasell is a matching platform that connects sellers with agents who can take care of the listing and selling process for them and is the first service to match individuals this way in Japan. The sellers are able to sell off unneeded items easily without the hassle of taking photos, handling questions, and setting prices, and the agents can register as "Makasellers" and use the platform to make extra money in their free time by listing items. In addition, there are no intermediary fees like with commercial buyers, products often sell for higher prices, and by connecting sellers with agents, the system is beneficial for both parties.
The amount sellers receive for each item is the sale amount minus the Makaseller's fee and the system fee (300 yen (approx. $2.80). The sale amount for each item refers to the remainder after flea market app handling fees and shipping are taken out. Makaseller fees vary by user, but the average is 30% of the sale amount. Handling fees are only paid after an item sells. One benefit of the service is the low handling fee, which is achieved due to the lack of storefront and warehousing costs.
Sellers can choose the professional product listing Makaseller for their items. When choosing a Makaseller, users can set search conditions such as evaluations, achievements, and product categories. When listing an item, users can leave photography, handling questions, and price-setting to the Makaseller. The service provides an extensive support framework through evaluations, reviews, reparations support, and 24-hour customer service to ensure users' peace of mind.
To request a product listing, first register an account, then search for a Makaseller. After determining the listing conditions by chatting with the Makaseller you choose, send your item. Once it sells, the transaction is complete.

Makaseller's can leverage the specialized skills they have developed through past experience listing items on flea market apps, reaping the benefits of additional earnings in their free time. There are no monthly fees or closing fees whatsoever for Makasellers.
To register as a Makaseller, you are required to create a product lister account on the official site which lists information such as the product categories you handle best and your transaction conditions. If your account passes the service's inspection, your official registration will be completed, and you will be able to accept requests from sellers.