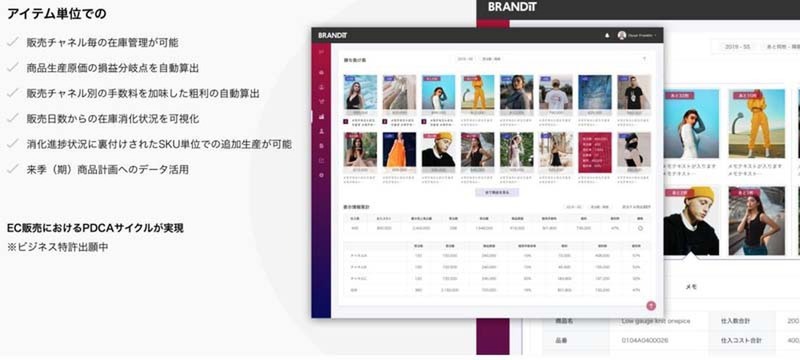 On May 29, Brandit announced the "BRANDIT system" e-commerce system, which performs integrated management of all data for each item used in e-commerce operation to calculate the break-even point. This product will be available starting June 1.
Brandit's vision is to "Make Next Branding by Fashion Tech." by developing its business as a company that promotes the DX of the fashion industry through D2C brands and the D2C solutions business.
Many companies that operate fashion e-commerce sites input only the data for the required items of each tool it uses, such as the e-commerce system, inventory management system, and the marketing and analysis system. This tends to cause organizational sectionalism to occur due to the respective supervisors not being able to immediately view the same indicator data and also results in decreased productivity due to the complex work that is generated each time the data is updated as well as to the data entry and communication mistakes that occur.
The BRANDIT system conducts centralized management of not just the cart function but of all the items managed by other tools including orders, cost price, handling fees by channel, sales start date, shipment data, and shipment sales. The break-even point for each item can be displayed in detail by color/size and by sales channel. Having common indicators regardless of area of responsibility makes it possible to shift from using a sales-focused to a profitability focused PDCA cycle covering from analysis to strategy.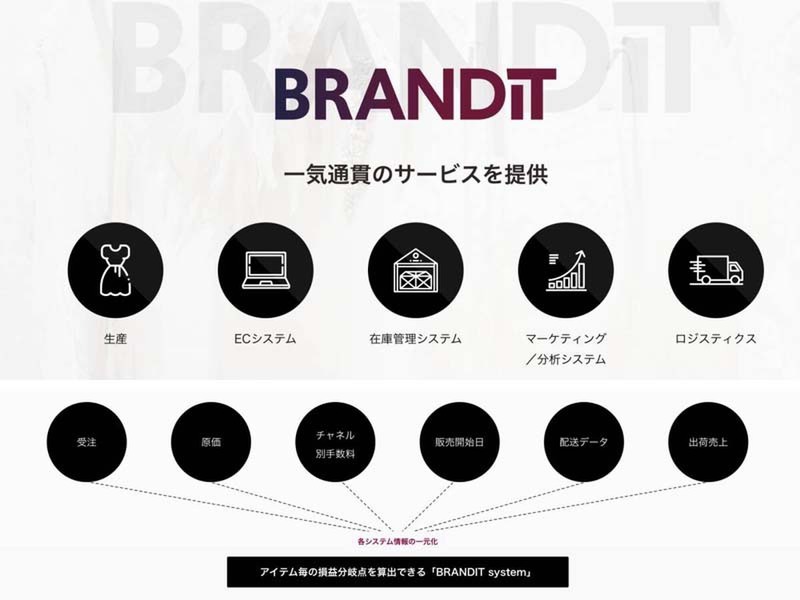 With functions for managing inventory and automatically calculating the break-even point and gross profit, and visualizing the state of inventory consumption by sales channel, it is possible to add additional production to next-period product planning. The e-commerce system monthly usage fee is free (a separate service fee is required).