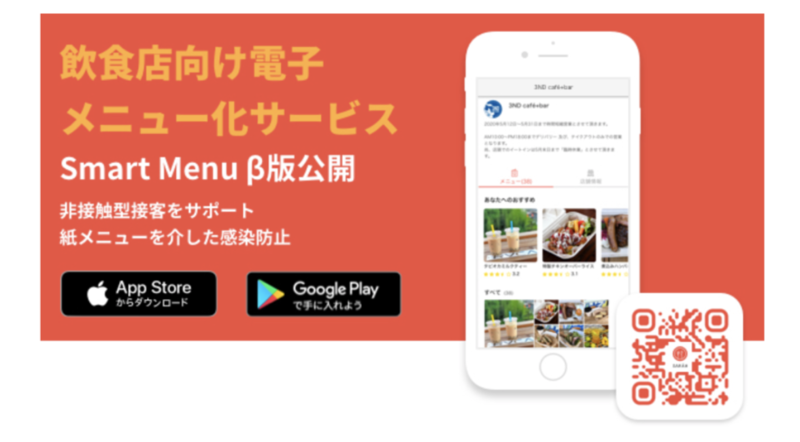 Sarah, the company behind the foodie community app "SARAH," launched the beta-version of "Smart Menu," an electronic menu service for restaurants, on May 28. The service will be offered to restaurants nationwide at no charge for a limited period starting from the same day.
Although the state of emergency has been lifted and restaurants that were closed are gradually resuming their operations, the adoption of protection measures against COVID-19 such as thorough disinfection work and ensuring safe distancing between customers is imperative. Under these circumstances, it has been pointed out that paper menus used in restaurants may become a new source of infection. Smart Menu not only reduces the frequency of contact between members of the hall staff and customers at restaurants by converting regular paper menus into electronic menus, but also allows customers to browse the menu on their personal smartphone. This obviates the need for paper menus and is expected to assist in preventing the spread of COVID-19.
To introduce Smart Menu, restaurants can contact the service team of Smart Menu through the designated online form or by phone, and send the image files of their existing paper menu and the dishes they offer. The Smart Menu team will then create an electronic menu based on this and issue a QR code through which customers can browse the electronic menu. In addition to electronic files, stickers will be printed and delivered (by post) to the restaurant. These stickers contain the QR code with which customers can browse the electronic menu, which can be affixed to each table in the restaurant to complete the setup.
Customers will be able to browse the electronic menu online by using their smartphone to scan the QR code affixed to the table where they are seated.
Prior to the launch of its beta-version, SARAH had launched this service on a trial basis in 30 restaurants located mainly in Tokyo from March of this year.

The company is developing an official version of the service scheduled for this summer. The official version will contain an additional feature that allows restaurants to manage customer-related data. By combining this information with SARAH's data, the service can display personalized menus with recommendations for each customer with the aim of raising the average spending. In addition, the company plans to implement a marketing feature that can encourage customers to return to the restaurant again.