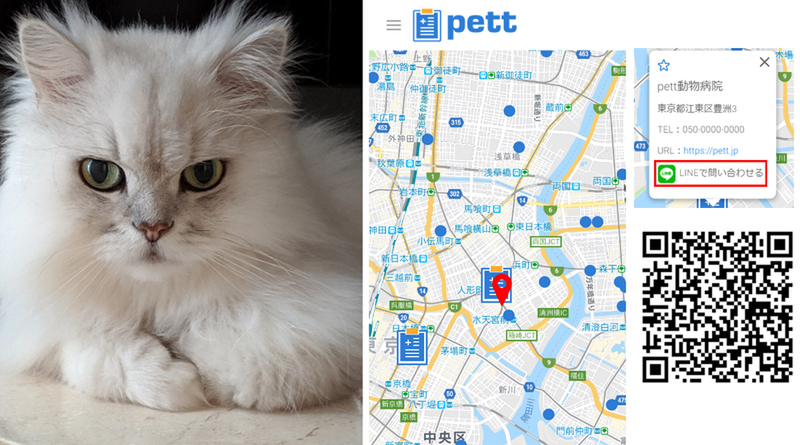 Swandive launched "pett" on May 21 as a service to simplify taking care of your pet's health.
Swandive is the company running the book subscription service "shelff." The newly launched pett is a service where the user can search for, make enquiries at, and receive advice from veterinary clinics by using LINE. It's selling point is that it is very easy to use. To use this service, the user only needs to add the "pett official account" as a LINE friend on their smartphone.
As many pet owners want to focus on clinics that are close to their home when looking for a veterinary clinic, the service includes a function to search for clinics on the map. The user can choose a veterinary clinic on the map and send an enquiry to the clinic from LINE (only applies to veterinary clinics compatible with the "LINE availability function").
If LINE is already installed on their smartphone, then the user only has to add the pett official account as a friend without needing to install an app. As the user will be using their LINE account, user registration or login is also unnecessary.
A function that lets the user ask a veterinary clinic or veterinarian for advice about their pet's health at any time from a menu shown in the talk screen of the pett official LINE account is planned to be added in the future.
The service also expects to allow the veterinary clinics that register on pett to optimize their work flow by shifting from current referrals from customer recruiting centers or phone calls to enquiries and consultations on LINE. For clinics registering as a pett advisor, pett offers a free function that makes the clinic's icon stand out on the map.