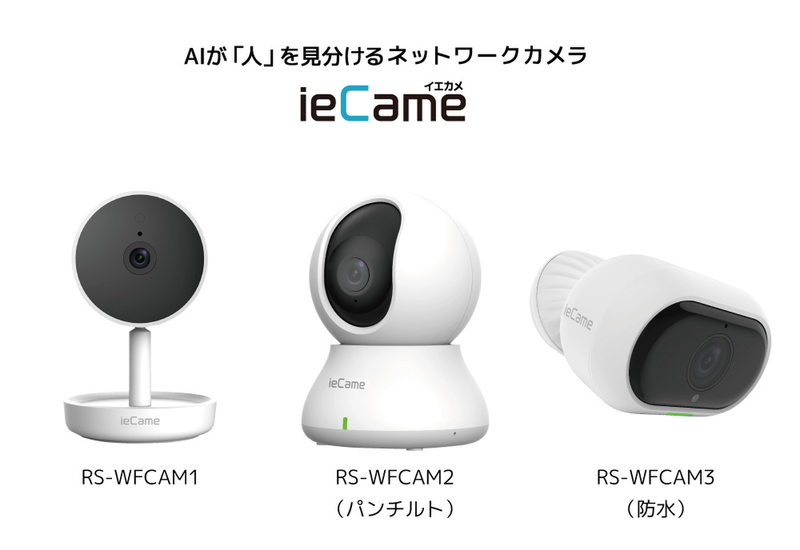 On May 21, RATOC Systems announced its new line of network cameras, ieCame. Shipping will begin in early June.
These network cameras are used by connecting them to a home Wi-Fi network. One major feature of ieCame cameras is their rich notification function. Using AI, the cameras are able to recognize people and send a push notification with a photograph. Most network camera products are able to detect and report movement, but require users to check whether or not a person is shown in an app. Before sending a notification, ieCame uses cloud computing to identify human figures among the moving objects it detects. As a result, users only need to open the push notification on their smartphone to check detected people.
Three models are available. RS-WFCAM1 (¥10,780, ~$100) is the compact standard model. RS-WFCAM2 (¥11,880, ~$110) is a pan and tilt model that can move its lens up, down, left and right to capture a wide area. RS-WFCAM3 (¥19,140, ~$178) is a waterproof model suitable for outdoor installation, such as by entrances and garages.
Live and recorded video can be checked over the cloud using the ieCame app. With the app's four-screen display function, users who have installed multiple ieCame cameras can check video feeds of four locations at once. ieCame also supports smart speakers. Amazon Alexa has already been certified, while support for Google Assistant will be available this summer.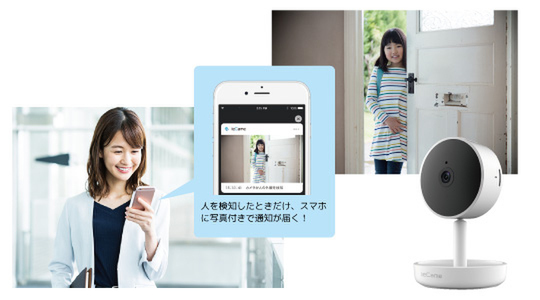 One day of recording data for detected objects is saved in the cloud. In addition, continuous recording data can be saved by specifying a microSD inserted in the camera as the save destination. (For full HD image quality, 32GB can store about 96 hours of video.) The company also offers a paid subscription plan that allows users to store continuous recording data in the cloud and adds a facial recognition feature.