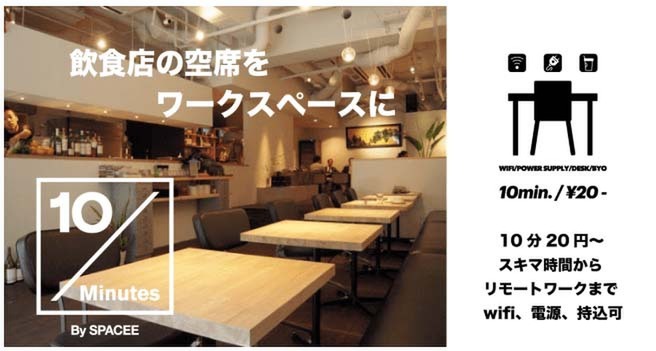 On May 1, Spacee officially launched their new service that puts empty spaces in places like restaurants and offices to use as unmanned places for remote working, "10 Minutes by SPACEE."
Charging just 20 yen (around 20 cents) for 10 minutes of time, they are offering a reasonably priced service that allows places such as offices or restaurants to make use of their empty space as a workplace. Different from the office or home, "The Third Workspace" allows people to use spare moments in their day for a variety of uses such as work, web conferences, study and more.
In places like restaurants, a tablet or QR code can be put in the store to allow users to sign in, and the store can offer excess space for working that they may have outside normal business hours, or during quite periods. After users have registered, they can check in to the system, pay with their smartphone and start. Using tablets with facial recognition technology, it is also possible to calculate the usage fee by monitoring when the user enters and exits the store.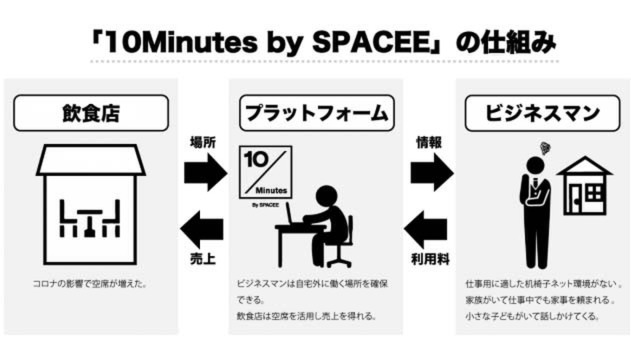 With the ability to bring in customers intending to work rather than eat, the service is anticipated to allow restaurants to target an entirely new customer base. Moreover, as it is possible to set the number of users in advance, this allows for social distancing - an important factor in limiting the spread of the novel coronavirus and running a safe business. Spacee says that it will also be possible to combine the service with its other restaurant targeted order app, "SPACEE TAKEOUT."
Spacee is aiming to expand the service to over 300 locations within the year.