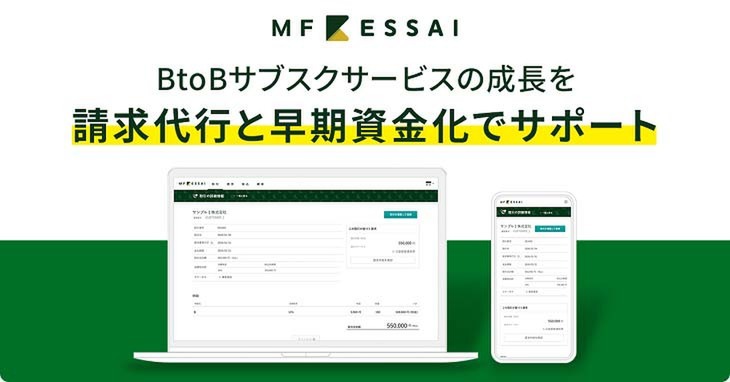 On April 30, MF KESSAI began its new business-to-business service, where yearly fees for all subscription services can be paid altogether ahead of time - "MF KESSAI Growth Support" - to add to its existing "MF KESSAI" payment processing service.
MF KESSAI carries out a variety of functions, from customer credit checks and invoice issuing to payment collection, and bundles them all together as a payment settlement agency service. They also offer a "Fast Transfer Service", which can reduce the amount of time companies take to receive debt repayments from over 30 days to as little as 5 business days.
Their subscription service offers the ability to pay costs such as monthly or yearly fees at specific times. Customers can choose from different plans like monthly or yearly payment, and among those plans there is even the option for those with yearly contracts to make monthly payments.
With MF KESSAI Growth Support, 12 months of fees can be paid all at once, before the original payment deadline. The benefits for businesses offering services range from the possibility of earlier capitalization, to allowing investment in sales in marketing so a business can speed up the initial offering of its service, to improving the cash flow of a company. As MF KESSAI will handle the billing of yearly fees on behalf of other companies, they are also planning to improve the efficiency of the billing process. Furthermore, there is also the advantage of avoiding the risk of client bankruptcy or debt non-repayment.
The service fee will be 6-10% of the overall fees. (Depending on contract conditions, there may also be cases where a fixed monthly fee is charged.) The first step will be the introduction into "KARAKURI", the SaaS AI chat bot.