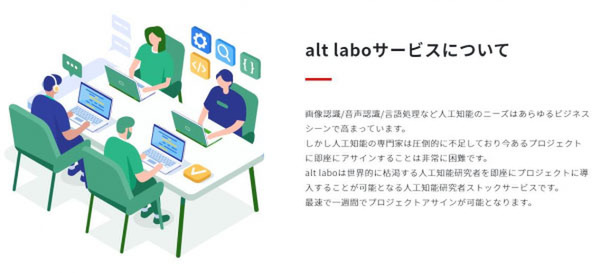 On April 20, ALT Technologies started providing the matching service "AI Lab," a service that can quickly assign advanced AI researchers around the world to projects.
Business operations of ALT Technologies include artificial intelligence, research/development of technology related to artificial intelligence, and consulting/planning/development/operation of related services. Since the foundation, the company has been in communication with top researchers around the world. Using these experiences and connections, AI Lab matches the needs of companies that are struggling with a lack of human resources and researchers who are aiming to research at a higher level. In as short as three days, the world's top-level researchers can start participating in projects.
Operating together with al+, a developer/provider of the personal artificial intelligence "alt," it initially started as a service limited to researchers with track records of joint research with al+. The service will sequentially expand its scope to researchers all around the world.