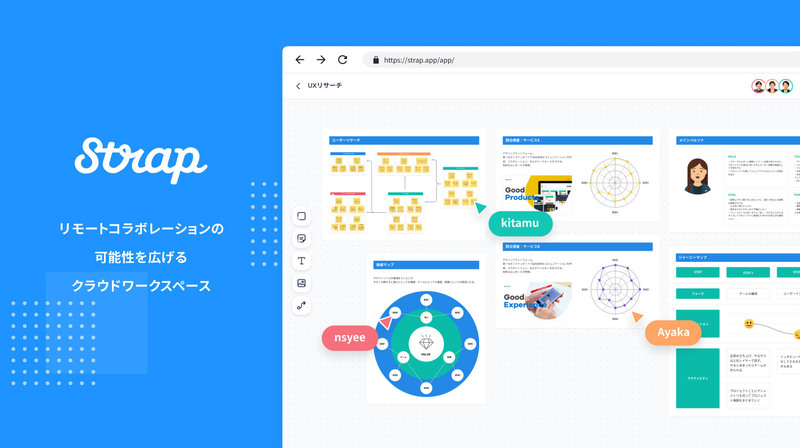 On April 23, Goodpatch opened registration for the beta version of Strap, a cloud workspace.
Strap is a cloud workspace for teams working together on projects. The workspace provides a collaborative online environment where the entire team can share information and work while looking at a whiteboard. Members of the team can work together in real time to edit diagrams and text information. With features like sticky notes and diagram creation, Strap can also be used as an online whiteboard in conjunction with remote conferencing tools.
Strap includes a variety of templates, such as useful business frameworks, making it easy to create diagrams that convey information effectively. With Strap, information and images used for a project can be managed in one central location. It is also possible to organize information using sticky notes, prepare presentation materials and create personas and customer journey maps. There are plans to add more features, including task management using kanban boards, mind maps for organizing ideas and the ability to comment on created materials.
The service is currently being used by a variety of trial partners, including Adways, M3, HiCustomer and Retty. The public beta version is now available free of charge as a trial. It will be provided to companies in order of registration. Goodpatch will also provide online informational sessions on how to use Strap for online workshops.
Strap's official release is scheduled for the summer of 2020.