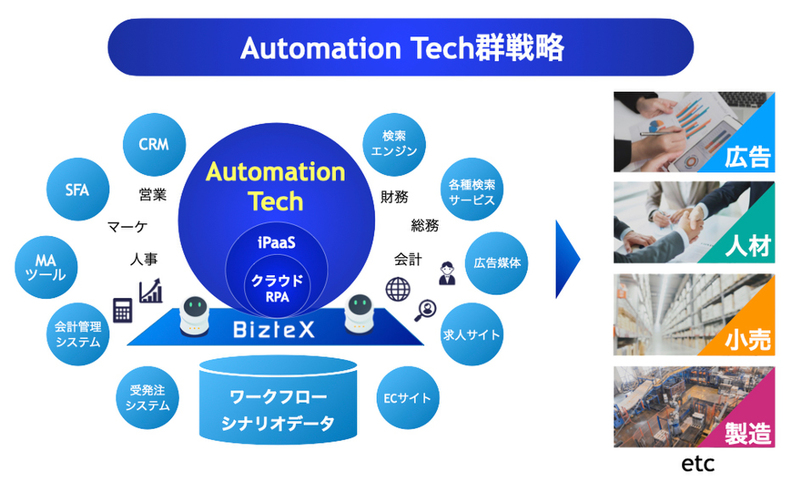 BizteX announced on April 20 that it has raised a total of 630 million yen (around $5.87 million) in funds. These funds were raised through the third-party allotment of shares to Miyako Capital (Miyako Kyoto University Innovation, 2nd Venture Fund), KDDI, TIS, and the existing investor WiL Fund II, as well as loans from the Japan Finance Corporation and the Shoko Chukin Bank.
The company launched the first cloud-based RPA in Japan, "BizteX cobit," in November 2017. It has offered many companies support for the automation of their business operations regardless of industry, with a particular focus on intermediary enterprises. In October 2019, BizteX privately released the beta-version of its iPaaS product that integrates its cloud-based RPA with an API connector. As of April 2020, the total number of companies using this product, including PoCs, is around 1000, with the number of affiliated services rising to around 100.
The funds raised by the company will be channeled towards the implementation of its new business strategy known as an "Automation Tech multi-pronged strategy," which involves expanding its operations into the iPaaS domain with BizteX cobit as its core. BizteX seeks to become a hub of system integration that offers cloud-based RPA and iPaaS while defining a new area of "Automation Tech" which comprises technology that supports automation. The company plans to increase its number of partners in order to strengthen its collaboration with SaaS vendors and sales partners, as well as to promote the joint development of products and allow for joint proposals on business operations in the future.