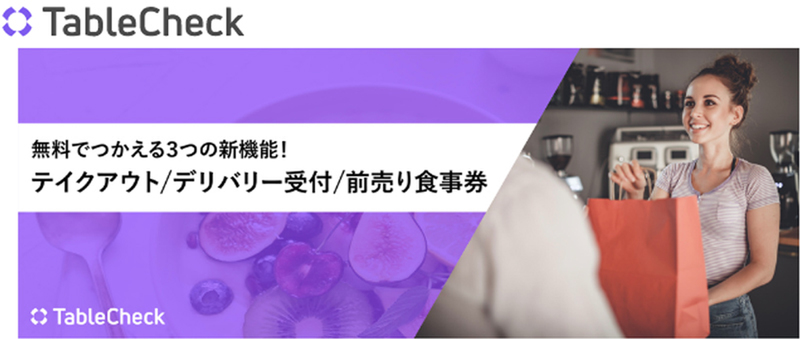 Tablecheck announced on April 16 that it will provide takeout, delivery ordering, and meal voucher pre-sale features free of charge.
To support restaurants which are suffering a severe impact due to the spread of novel coronavirus (COVID-19) infection, the company will provide at no charge the Takeout feature enabling automated reservations 24 hours a day, the Delivery Ordering feature capable of taking orders from dining room tables nationwide, and Support Plan (Meal Voucher Pre-sale) feature allowing the pre-sale of meal vouchers to fans of a restaurant.
In addition to eliminating the initial, monthly, and order surcharge fees, it will be possible to begin using the service in as a little as one business day after contacting the company. To provide support for advertising and attracting customers, restaurants will be listed on the company's TableCheck reservations platform at no cost. Restaurants temporarily limiting reservations due to closure or reduced business hours at the present time are eligible. If they are taking reservations during normal business hours, cafes and karaoke establishments, etc., are also eligible (establishments which do not take reservations or advance orders during normal business hours are ineligible).

Related article:
Tablecheck released "Insight," optimizing restaurant management
Tablecheck releases a "Waitlist" function that declares it will reduce phone calls to waiting customers to zero