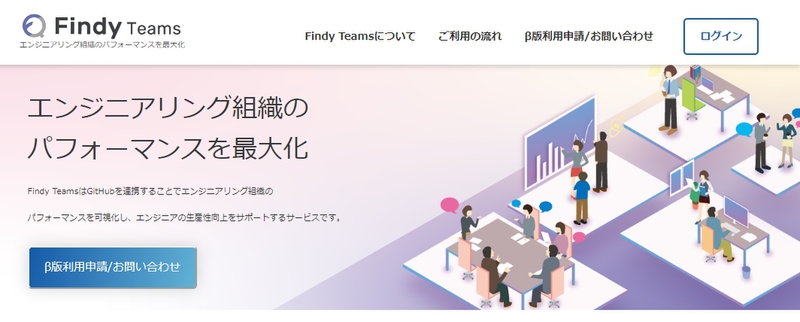 On April 15, Findy released the β-version of "Findy Teams," a service that allows for any enhancement in the productivity of engineering organizations or room for improvement in their development process to be visualized.
In view of the long-term challenges posed by the novel coronavirus (the arrival of the "with-corona era"), Findy has developed this service to facilitate the preservation and enhancement of the productivity of engineering organizations even in an environment of working remotely and telecommuting.
This service seeks to automatically identify productivity gaps and bottlenecks in the development process by analyzing GitHub accounts to assess the quality of the source code for internal development operations, the volume of activity in each phase of the development process, differences in the amount of communication between engineers from different teams in the company, as well as OSS (open source) activities. The results of this analysis will be used to support PDCA initiatives aimed at making improvements and enhancing the performance of the engineering organization.
In the course of operating an employment support service for engineers, Findy has received various feedback from engineers working on-site, e.g., "While both our managers and team members are aware of the challenges involved in enhancing the productivity of the engineer team, it is still impossible for us to visualize these challenges quantitatively," "The management does not have a good grasp of an engineering organization," "We are having trouble hiring engineers, and the time of the engineers in our company is being spent on recruitment efforts," etc. The company indicates that the development of this service was prompted by the realization that maximizing the performance of engineers after they have joined a company or started working continues to pose a major challenge.
In the future, Findy plans to develop services that would allow for the productivity of an engineering organization to not only be disclosed internally but also externally to other parties should the organization wishes to. This serves to reduce the burden associated with recruitment on engineers who are currently spending a lot of their time on referrals and recruitment interviews.
Findy is currently accepting applications from another 30 companies to participate in the β-version of this service, which can be submitted from its official website.