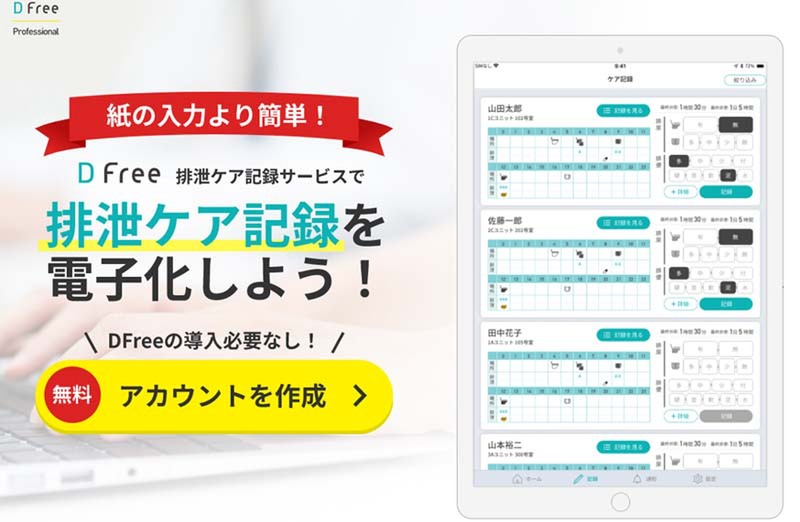 On April 10, Triple W Japan added a new function that records toileting care to DFree Professional, its service targeting companies, launching the function as its toileting care recording service.
Triple W Japan sells DFree, an IoT wearable device that predicts the timing of visits to the toilet by monitoring changes in the bladder of the user through an ultrasound sensor. Supporting personalized care tailored to the recipient—something that was difficult with conventional toileting —the device is able to improve the quality of life (QoL) of the care recipient while reducing the burden on the caregiver.
Focussing on nursing homes and medical institutions, DFree Professional is a free service that allows caregivers to easily record, view, and collectively manage toileting care records written on paper from devices such as iPads/iPhones, and computers, anytime and anywhere. This service is provided to nursing homes and medical institutions, irrespective of whether they are using DFree or not.
In addition to recording urination and defecation, the service also records information related to toileting assistance, including fluids intake, the administration of laxatives, and the status of toileting assistance. Data that is input is reflected in the record in real time. The service makes it possible to gauge the toileting status of all users that day on a single screen, in addition to displaying changes in the ratio of incontinence, unsuccessful attempts in the bathroom, and independent visits to the bathroom over the past three months. It is possible analyze the degree to which a user has maintained/improved his or her level of independence.
The combined use of the DFree Professional service with DFree provides effective toileting care that can powerfully support the independence of users in toileting, together with reducing the burden on caregivers.