On April 8, Gigi announced that it has made the features of "Gochimeshi," the service that allows you to treat people to meals, available to people in all industries, in addition to the restaurant industry, and all regions as part of a move called "Opening Sakimeshi."
"Gochimeshi" is a service that allows you to treat people to meals through the app. In addition to "Gochi" (treating people) for your friends, colleagues, and parents, the service can be used in many other situations, such as to support restaurants and cafeterias for underprivileged children.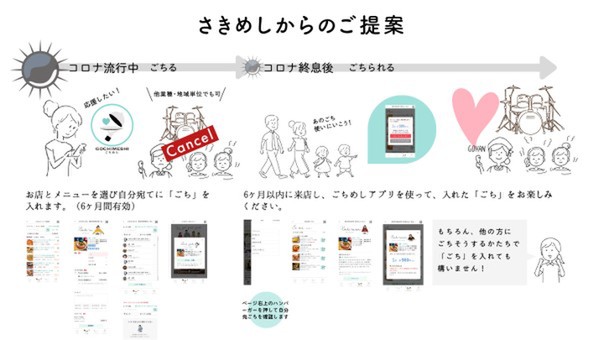 Recently, there have been efforts in place called "Sakimeshi," in which the "Gochi feature" of the service is used to prepay restaurants that have been impacted by the novel coronavirus for meals to be enjoyed during visits after the pandemic comes to an end.
In order to support everybody who is struggling during the coronavirus pandemic, the Gochi feature of Gochimeshi and the prepay feature of Sakimeshi have been made available to people in all industries, such as music, events, beauty, and entertainment, and people in all regions. Through these efforts, it is possible to encourage shops without visiting them and to provide support across borders.
Additionally, "Gochi Buttons," which are links that can be set up on shops' menus to enable "Gochi," have been made available for use. Anybody, whether they are a municipality, organization, or individual, can create a site to support their region.
In addition, the "Gochimeshi Ambassador" system has been put in place to solicit volunteer supporters, as well as organizations that would like to support Gochimeshi's efforts. Please apply through the special page.