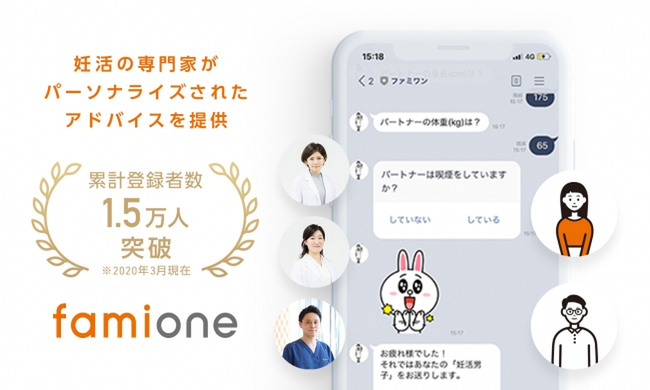 FamiOne announced on April 6 that it had raised approximately ¥150 million ($1.38 million) in a pre-series A round. The funds were raised through a third-party allocation of shares and a loan from the Japan Finance Corporation. The round was backed by KVP, Aflac Ventures, Venture United, AG Capital and multiple angel investors, including Jun Nishikawa and Minoru Moriya.
FamiOne develops a LINE-based fertility concierge service for couples hoping to conceive a child, as well as women who are considering doing so in the future. The service is also named FamiOne. A multidisciplinary team of experts provides support tailored for each client's lifestyle and the particular issues they are facing in trying to conceive. The team includes certified fertility nurses, clinical psychologists, embryologists and peer counselors who have dealt with infertility, certified by the nonprofit organization FINE.
In the year and a half since the service launched in June 2018, it has attracted a total of 15,000 registrants. Compared to the same period of the previous year, the pace of new registrations has increased by over 800% since October 2019. In September 2018, the company began offering an employee welfare program for corporations. The program has been introduced at Odakyu Electric Railway and Mixi Group. The company also provides seminars for a variety of organizations, including the Itochu Labor Union, All Nippon Airways (ANA), Sony and Mercari.
Through active recruitment efforts and business investments, FamiOne intends to increase market penetration of its services while expanding the number of companies and governing bodies that have introduced its employee welfare program. It is also working to accelerate collaborations with medical institutions. The company aims to achieve one million total registrants by the end of 2021.