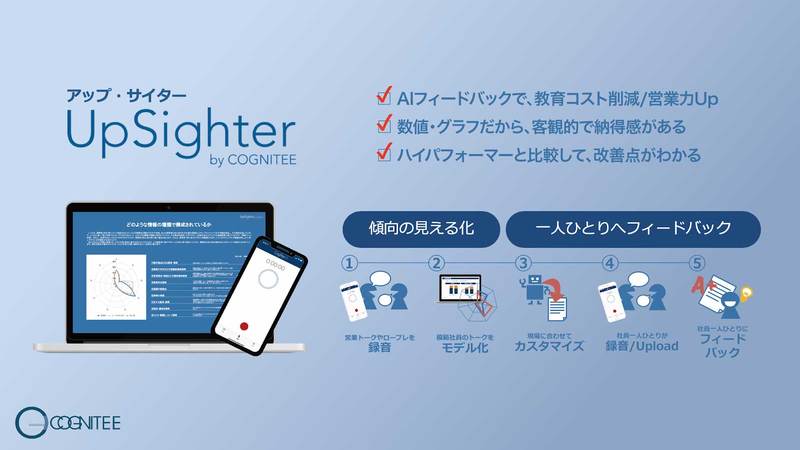 Cognitee announced that it conducted a capital increase through third-party allocation with XTech No. 1 investment limited partnership, which is operated by XTech Venture, and Dip, as a series B round of funding. They procured a total of 5 hundred million yen (approximately 4.5 million USD).
The purpose of their procurement of capital is the expansion of UpSighter, their service that analyzes and provides feedback for sales talks, and states that it contributes to improved business performance and helping clients put the bottom up approach into use.
The service automatically analyzes the contents of recordings of sales talks and roleplaying that are uploaded to it. By comparing what is said by high performing individuals, their AI provides you with specific improvement points. They say that businesses who implement their service can expect sales team performance to improve as well as an increase in performance standards.
They state that they will use this capital to develop an algorithm that will allow you to make comparisons against industry averages, and create a service that can be used by mid- to small-sized businesses and individual departments as well as large businesses with no initial development costs.
Additionally, they will expand sales for their UpSighter series, including their service for the finance industry, UpSighter for Finance, which is targeted at regional banks, as well as UpSighter for Presentations!, a presentation/pitch analysis SaaS that is also available for individuals, and are scheduled to develop new projects for the series.
General partner and co-founder of XTech Ventures, Shinichi Saijo, commented that, "Even if you get enough output to improve sales efficiency and increase productivity, there's no point in using AI to analyze client data on a large scale if your results are influenced by the all important sales talk, which is dependent on people. I believe that we should use AI proactively for talks as well, and I think that the solutions offered by Cognitee contain huge potential in improving productivity in talks, which is something that has been difficult to quantify until now. I made an investment with my expectations on the passion and dynamism the CEO, Ms. Kawano, has for her work."